Marion County Clerk
Sphere of Influence: White oversees the budget of the local court system, but she's better known for making sure election day in Marion County runs smoothly.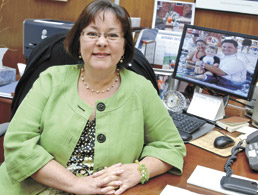 (IBJ Photo/ Perry Reichanadter)
Beth White plays dual roles in local government. As Marion County clerk—the full title is Marion County Circuit Court Clerk—her office oversees the $35 million that flows through the court system annually.
"But people don't pay attention to that at all," she acknowledged.
The far more visible part of her job is running elections, and making sure they run smoothly. And her passion is getting people to vote.
"I feel like it's my responsibility to make this process work for people," White said. "We've tried hard to think of ways to make that possible."
White grew up in Bloomington, the daughter of a professor father and teacher mother. They stoked her early interest in politics and government, and after graduating from Indiana University-Bloomington, she moved on to Georgetown Law School and interned for Congressman Lee Hamilton.
She started in private practice, went into government, and now has compiled a resume that includes working for two governors, a prosecutor, a mayor and now her own office.
"I've been very lucky, and I've learned a lot along the way," White said. "What I've learned is that I don't have all the answers and that governing is very complicated."
All the more reason for everyone to participate, she said.
So she's tried to make the process easier by:
• Expanding satellite voting locations in 2008, enabling 72,000 people to vote early. (Republicans on the Election Board have not permitted satellite locations since, she said.)
• Promoting the Traveling Board program, which sends teams of people to voters who are confined to their homes.
• Recruiting new poll workers, including high school students, to make elections run more smoothly, and instituting policies to have backup election inspectors ready in cases of emergency.
She also visits schools regularly to explain to students how the election process works and why government should matter to them. One recent morning, a Ben Davis High School student made the mistake of telling White, "I don't vote because I don't care." White proceeded to show her how Congress and the president connect to her life through student loans.
"I think that people have confidence in their government only to the extent that they participate in it," she said. "The people who don't participate or feel disaffected by the process are not invested in their government. That's a huge problem, and I think it's something those of us in elected office have a responsibility to work on. And I'm lucky enough to have a job where I have a terrific bully pulpit."
Outside of work, White is active in Central Christian Church, where she sings in the choir and has been an elder. She's also on the board of the Julian Center, which serves victims of domestic violence. "I was a criminal prosecutor early in my career, and I really appreciate and understand the terrible impact domestic violence has on the community."
She lives in Irvington with her husband, Neil Marcus, and their 3-year-old son, Nathaniel, who, around election time, sometimes sees more of his mom on television than in person.
"But it's a privilege to serve," White said. "I really love the work we do."•
_____
Click here to return to the Women of Influence landing page.
Please enable JavaScript to view this content.