In their 12 years together, Frank and Katrina Basile have built an impressive travel resume, visiting 174 countries and counting.
Though it seems that would leave little opportunity for relaxing at home in Indianapolis, the adventurous couple has carved out more than enough time to live well locally.
(IBJ Photo/ Perry Reichanadter)
Their unassuming home on Lake Clearwater, just a stone's throw from the hustle and bustle of Keystone at the Crossing, provides the ideal backdrop for the Basiles to pursue their passion for the arts.
Frank, a motivational speaker and retired real estate executive, and Katrina, a real estate agent with F.C. Tucker Co. Inc., use their home as an art gallery, a dance studio and quiet retreat from busy professional lives.
In an unabashed tribute to Frank's Louisiana roots, the couple has swathed the interior of their contemporary house with New Orleans-themed art. Pieces depicting the city's historic jazz scene and its legendary musicians adorn nearly every available inch of wall space.
The couple's interest in New Orleans harkens to Frank Basile's upbringing. He spent the first 21 years of his life in the city. (IBJ Photo/ Perry Reichanadter)
For Frank, a graduate of Tulane University who spent 21 years growing up in the city, the love affair with all things New Orleans is never-ending.
"We love to go back there and we love the music so much that we constantly want to be surrounded by the art that represents the music," he says.
Oddly enough, it was a visit to an Indianapolis gallery that incited their interest in jazz-themed choices in art. A few years back, they stumbled upon an original oil painting by Bloomington-based R.J. Holhime that showcased their two primary loves, New Orleans and ballroom dancing.
"That's how we decided how we were going to decorate [our place]," Frank says. "That's the piece that started it all."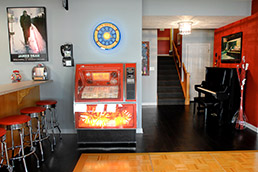 The Basiles are scaling back their art purchases as the house reaches a saturation point, but Katrina can still envision places for more. (IBJ Photo/ Perry Reichanadter)
Every two years or so, the couple sojourns to the Crescent City, a place that has obviously changed considerably since the hurricane that Katrina jokes is her namesake. That unfortunate coincidence aside, the Basiles relish their time in New Orleans, visiting familiar stomping grounds with relatives or discovering new spots on their own.
Kicking off every trip is an excursion to the famed Café Dumond, where Frank and Katrina indulge in a plate of beignets before they even check into their hotel. Then it's off to shops, galleries, family get-togethers and a stroll through the French Quarter.
Lately, the Basiles have been acquiring fewer pieces as they travel to New Orleans, having reached a possible saturation point.
"We haven't added much recently, because we are starting to run out of space," says Frank, inciting immediate dissension from his wife.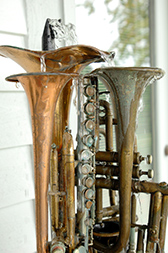 (IBJ Photo/ Perry Reichanadter)
"That piece over there, we could move that up higher and have room for something else underneath," she insists, referring to a limited-edition print by Michael Young called "Tripping the Light Fantastic."
Frank concedes, "Katrina has a great eye for interior design." He credits her for her bold choice of wall colors—seven in all—used on the main floor alone.
Squabbles over decorating aside, the Basiles present a united front when it comes to their appetite for adventure, travel and arts patronage.
In 2006, the couple established the Basile Center for Art, Design and Public Life at IUPUI's Herron School for Art & Design, where Frank serves on the Dean's Advisory Board. Since retiring as senior vice president of the Gene B. Glick Co. in 2008, he has also lent his time and service to the Indianapolis Symphony Orchestra, the Indiana Historical Society and WFYI public television and radio.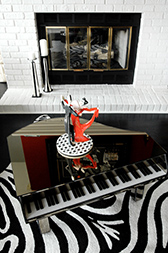 (IBJ Photo/ Perry Reichanadter)
Last year, Basile was tapped as interim president and CEO at the embattled Center for the Performing Arts in Carmel. In August, he handed the reins over to replacement Tania Castroverde, capping a hectic year as he worked to turn around the finances of Hamilton County's premier arts destination.
The newfound free time paves the way for the Basiles to keep up with their other pastime of ballroom dancing. It's a hobby they can pursue at their leisure with their own dance floor in the walkout basement. A vintage jukebox plays 1950s and 1960s tunes for their swing and cha-cha sessions.
Installing a dance floor was a no-brainer.
"It's difficult to find a place to go ballroom dancing anymore," says Frank, who introduced his wife to the activity shortly after they met in 1997.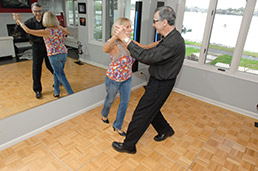 Frank and Katrina Basile's home has a dance floor where the couple indulge their passion for ballroom dance. (IBJ Photo/ Perry Reichanadter)
The duo practices their moves regularly, and also makes frequent use of their in-home exercise room. They also love biking and walking on the trails around Lake Clearwater.
Activities notwithstanding, it's the tranquility and scenery of the surroundings that attracted them the most when they bought the place in 2000.
"We really don't boat, but we love the view, which is why we live here," Frank says.
The Basiles have considered moving to the cultural heart of Indianapolis, but find that the nominal distance doesn't bother them.
"We like the fact that we can be in downtown Indianapolis or downtown Carmel in 20 minutes," Frank says. "We are close in either direction."•
Please enable JavaScript to view this content.