Sonny's Pizza (74 W. New York St., 423-2373), the former Broad Ripple point-to-a-slice-to-order eatery, found a new home downtown over a year ago without much fanfare, taking over from another easy-to-dismiss pizzeria (Luca). The décor remains from the whatever-we-could-find school; the menu choices remain unsurprising.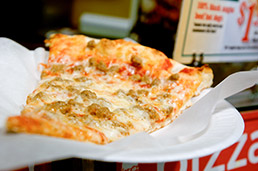 No downtown is complete without good by-the-slice pizza spots. Sonny's qualifies. (IBJ Photo/ Perry Reichanadter)
Fact is, though, that there should be one of these joints every few blocks in a respectable downtown—a place where a slice and a drink isn't going to set your wallet back too far, where the pizza crust is crisp but not too thin and where the breadsticks come out of the oven with a hint of the flavor of everything else that's spent time being reheated.
To fill out the display, these places have to have some subs and pasta and maybe a few wraps (Sonny's has all of the above), but the raison d'etre is always to serve up good slices—one of which will satisfy and two of which will fill you for the afternoon. Spots like Sonny's, off the beaten tourist path, make or break their businesses based on pleasing and re-pleasing workers in nearby buildings. Sonny's does that with cheese ($2.25), single topping ($2.50), deluxe ($2.99) or stuffed ($3.79) slices. There are Stromboli, calzones and panzerottis, too ($4.79 each), but in Sonny's world, there's not a lot of difference among the three besides the innards.
Happy to say that going beyond the dough/sauce/cheese combos here doesn't mean disaster. The Three-way Chili ($4.99) proved a hearty-yet-somewhat-bland mixture heavy on the spaghetti and light on the chili. The Meatball Sub ($5.09) didn't skimp on the mozzarella and offered plenty of sizable orbs complemented by the red sauce.
Sonny's boasts of using Boarshead meat products, offers daily specials, and shouldn't be overlooked when considering taking a pie home after a day of work.
Just warn the family not to be surprised if it loses a slice during your commute.•
—Lou Harry
__________
Last in a month-long series of possessive restaurant reviews.
 
Please enable JavaScript to view this content.