Fresh off a 10-day safari in South Africa earlier this month, Katie Betley has every excuse to take it easy.
For that matter, after 40 years of community service across a wide swath of local organizations, Betley has earned the right to sit back and just relax.
But anyone who knows the 70-year-old civic-minded dynamo knows relaxation is not on her agenda. Whether she's working with the Indianapolis Zoo, the United Way of Central Indiana or Butler University, Betley is a constant presence in civic circles, a whirling dervish of volunteerism and can-do spirit.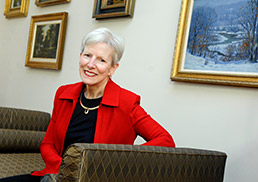 Katie Betley traces her commitment to civic involvement to her late father, former L.S. Ayres & Co. President James Gloin. (IBJ photo/Perry Reichanadter)
Betley's devotion to community service has earned her the distinction of being the 19th recipient of IBJ's Michael A. Carroll Award, given annually to a man or woman who has demonstrated the former deputy mayor's qualities of determination, humility and devotion to the community. Carroll was among six people killed when two small planes collided over southern Marion County on Sept. 11, 1992.
Betley has become a fixture on local boards, but she's doing far more than keeping a seat warm. The lifelong Indianapolis resident has earned a reputation as a tough advocate for the groups she serves, one who understands the leadership role of a board and sets high expectations for management.
"I first met Katie when she was a member of the board search committee that hired me," said Michael Crowther, CEO of the Indianapolis Zoo. "She was the one who asked the toughest questions, and did so with such grace. … I didn't want to let her down.
"She isn't satisfied with easy, facile responses," said Crowther, who joined the zoo in 2002.
An inquiring mind is one of the keys to her longevity in community service, Betley said.
"I'm known for asking a lot of questions," she said, "because I'm truly interested."
She's also known for never taking the easy way out. On a trip to Alaska attended by zoo personnel and donors, Betley bypassed an easy tram ride up to the top of Mount Roberts, instead choosing to trek up the 3,800-foot peak outside Juneau.
On the recent South African safari, she was spotted doing pushups outside her tent before dawn. An early riser who doesn't go a single day without exercise, Betley has garnered the admiration, if not outright veneration, of those who work with her.
"She's more fit than 99 percent of the people I know," Crowther said. "You've just got to respect that."
Deep involvement
Most Indianapolis community leaders couldn't beat Betley's time on the elliptical machine—or match her resume.
Her list of past and present engagements is lengthy and spans fields as diverse as historic preservation and amateur sports. She currently is a member of the Butler board of trustees and serves as a lifetime member of the United Way board. In addition, last year, she was named to the founders board of the Indianapolis Zoological Society, an organization she has served in a multitude of roles since 1980. Each group has tapped her at one time or another to be board chairwoman.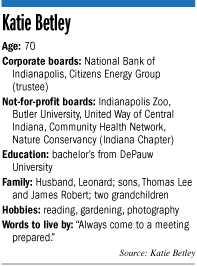 Longtime United Way CEO Ellen K. Annala said Betley employs an arsenal of people skills and sheer know-how that can only come from decades of experience on boards.
"She probably knows non-profit governance better than anyone I have ever worked with," Annala said, noting that Betley was the first member ever selected to chair the board without having first steered the United Way's annual fundraising campaign.
Family influence
Betley is keenly aware that enthusiasm for the causes must precede her involvement.
"I do feel that it's critical you have a passion for whatever it is. I have been caught in situations where it's not a good fit and eventually I backed out," she said.
Betley traces her gusto for community service to her late father and former L.S. Ayres & Co. President James Gloin. A leader in business and charitable life, Gloin and wife, Martha, imbued Betley and her older sister with a sense of civic responsibility.
"It wasn't just a lot of chatter," she said, but a family culture that encouraged involvement by setting an example. Betley said she is elated that the spirit continues through her two grown sons, daughter-in-law and two granddaughters, all of whom live in the Indianapolis area and, among other things, run the Betley Family Foundation.
Betley—who's been married since 1966 to Leonard Betley, a retired managing partner of law firm Ice Miller LLP—credits her entire family with paving the way for her volunteer career.
At the outset, she didn't know just how central community service would be to her life. Armed with a teaching degree from DePauw University, Betley initially chose to be at home and raise her sons.
But that decision didn't correspond with what she calls her "hyperkinetic" nature.

"I'm not very good at sitting still," she said.
Already a member of the Junior League of Indianapolis, Betley stepped up her involvement and became president of the 900-member service organization in the 1970s. Then the floodgates opened. In a few short years, Betley joined forces with Historic Landmarks Foundation, Indiana Sports Corp. and the zoo.
In 1987, she served as vice president of volunteers for the Pan American Games, in a massive effort to mobilize and train more than 37,000 workers for the international gathering in Indianapolis. Betley also has held board positions with the Indianapolis Civic Theater, the Indiana State Museum, the Salvation Army of Indianapolis, the local chapter of the American Red Cross and the Marion County Board of Ethics.
Along the way, she has collected numerous awards and distinctions, including the Stanley K. Lacy Community Service Award, the Volunteer of the Year Award from the United Way and the B'nai B'rith Woman of the Year.
Elder son James Betley said that, since childhood, he has watched his mother and father move quietly through the community, finding places where they could contribute time, energy and money while shunning the spotlight. Leonard Betley currently serves as chairman and president of the Richard M. Fairbanks Foundation. He also chairs the Regenstrief Foundation and Walther Cancer Foundation.
Though they are both well-known in philanthropic and volunteer circles, Betley said, his parents go to great pains to remain under the radar. "They never brag about it. Half the time I have no idea what they're doing."
Betley said his mother is a source of pride for the family and has inspired many around her to think outside themselves.
"She never says no, almost to a fault," he said. "She wants to do everything and see everything."•
Please enable JavaScript to view this content.