Lindberg Road Church of Christ in Anderson didn't have many financing options when its leaders decided in 2005 that it was time to expand a successful child care center.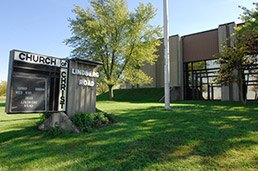 The Lindberg Road Church of Christ in Anderson has filed for bankruptcy protection because of a failed plan to finance construction on its properties. (IBJ photo/Perry Reichanadter)
The church could use $700,000 in pledges from its members to obtain a construction loan and work in phases. Or it could take out life insurance on some of its elderly members and use their death benefits to back a $2.5 million line of credit, which would pay for the child care center plus other upgrades at the affiliated Anderson Christian School.

Lindberg Road opted for the latter and in late 2006 bought $4.35 million in life insurance on 11 of its members. Now, the church is trying to avoid foreclosure by Fort Wayne-based Star Financial Bank, which promoted the insurance scheme along with Total Financial Group of Carmel.

"This whole plan that was supposed to provide the funding has not worked out the way we were expecting," said Tom Snell, administrator of Anderson Christian School and a former church elder. Snell wasn't among the church trustees who signed off on the life insurance, but he's familiar with it because the school guaranteed the construction loan with its tuition revenue.

The key to the plan was the insurance, which was supposed to pay off either in death benefits or through a sale of the policies on the secondary market. Things fell apart in 2009, when the church looked to sell the policies through Total Financial Group and was told there was no market for them, Snell said.

The pattern is typical of life-insurance-finance programs that were promoted and sold to charities and churches across the country in recent years, usually with bad results for buyers, insurance experts said. Total Financial Group appears to have created an entire side business around marketing to charities, and it's sold products to at least one other local church, Castleton United Methodist Church.

Raymond T. Blunk, principal at Total Financial Group, didn't respond to messages.

Lindberg Road was left in a financial bind when the sale of its policies didn't pan out. The church still owed $1.9 million with its note coming due Feb. 1, 2010.

Snell said church elders tried to negotiate with the bank before seeking refuge in bankruptcy court this year. Star and its attorney at Bingham Greenebaum Doll LLP declined to comment.

The church's attorneys want the bankruptcy court to relieve most of the debt, based on the failure of the life-insurance scheme. Star argues that the church can pay what it owes because the loan also was backed by real estate, which the bank values at $2.4 million.

The church's attorney, David Kleiman at Benesch Friedlander Coplan & Aronoff LLP, proposed an exit plan that calls for the church to pay Star $507,000, plus interest, over 25 years. The remainder of the debt, $1.5 million, would be secured by the life insurance policies.



Star's objection, filed Oct. 15, doesn't dispute that the bank promoted the life-insurance financing, but argues the policies can't serve as collateral.

The church assigned the death benefits to the bank in January 2007, at the same time it signed a note for up to $2.5 million. Two of the 11 church members died within the first two years, yielding $550,000 for the bank.

The remaining policies are worth only $400,000, Bingham Greenebaum partner Whitney Mosby wrote in the bank's objection. That's because the bank stopped paying premiums in May 2011, so only two policies remain in effect.

The bank paid almost $1 million in premiums, so there's no net gain to be had from the remaining policies, Mosby wrote.

About 100 people have left the church since its debt problems surfaced, leaving about 250 in attendance on Sundays, Snell said.

In addition, the school has lost about 20 of its 200 students because parents are worried it will close suddenly, he said. That could happen, if the bank pursues its loan guarantee, Snell said.

"We had never wanted to renege on the debt," he said. "It's kind of questionable that we've received any value from the policies."

Stranger danger

The church fell into a type of insurance investment that's resulted in lawsuits across the country.

Under one type of stranger-originated life insurance, or STOLI, the person being insured signs the death benefits over to an unknown investor in exchange for cash. In another, the insured borrows money to buy a policy with the intent of selling it on the secondary market.

The STOLI market was at its height in 2005 and 2006 but had collapsed by 2009, when Lindberg Road was ready to sell its policies, said Joseph Belth, an insurance industry watchdog who publishes The Insurance Forum newsletter from his Ellettsville home.

"Many of the people investing in these policies had found out that the whole structure of STOLI arrangements was flawed," he said.

The fundamental problem for investors is that an insured person could live long enough that the cost of premiums outstrips the death benefit.

Around the same time, insurance carriers began refusing to pay death benefits, sometimes on the basis that an investor lacked a legitimate interest in the policy, said Vaughn Henry, a Springfield, Ill., investment adviser who works with charitable trusts.

In other cases, the policies were declared void because of fraud in the underwriting process.

Henry said there are legitimate and effective ways for charities to benefit from life insurance. The most common is for someone simply to donate a paid-up policy. Charities also buy life insurance on donors who've pledged large sums for big capital projects, but in those cases the policy is a hedge against untimely death, he said.

"There's nothing wrong with a church taking out an insurance policy as a risk-management tool," Henry said.

The charitable twist on STOLI was common until about three years ago, Henry said. He was constantly fielding calls from charities about pitches they'd received and from life-insurance brokers who wanted in on the six-figure commissions.

"Willy-nilly insuring everybody and hoping somebody dies is not a way to make these things work," he said. "I can tell you, almost all of them collapse. Almost all of them."

The pitch

An offshoot of Total Financial Group marketed to churches and charities as recently as 2011.

Through TFG Life Solutions, the company pitches the concept of "life legacy capital creation." A TFG pamphlet says the point of the program is to "create substantial financial benefit with no financial cost or risk to the participant donors."

The charity borrows money to pay premiums for its donors or members, then repays the loans using the "life insurance cash values" or death benefit proceeds, the pamphlet says. The value of the policies is larger than the loan and premium costs, resulting in a "significant net cash benefit" for the charity.

Total Financial Group's Blunk, who is also a securities broker, reported to the Financial Industry Regulatory Authority that he's been involved in several life insurance businesses, including TFG Life Solutions since April 2011.

Blunk also lists being involved in a business called the "Life Legacy Capital Creation Program for Castleton United Methodist Church" since January 2007.

Castleton UMC's pastor, the Rev. Frank Beard, said he didn't know the details of his church's life-insurance financing because he didn't begin working there until July. He said he didn't think the church's situation was dire.

It's unclear how Total Financial Group and Star connected with the Anderson church because John Luallin, who was president of the board of trustees and would have been familiar with the details, died earlier this month. (He was not one of the insured members.)

Snell said Lindberg Road's congregation was eager to participate. Everyone who fell between the ages of 70 and 85 was invited to a dinner, and 20 people volunteered to sign up for insurance. After a round of medical exams, 11 people qualified.

Originally, Star proposed paying the premiums through annuities, which the bank would buy. By the end of 2006, however, shifting interest rates made that part of the plan unworkable, and issuance of the policies was delayed, Snell said.

Meanwhile, Lindberg Road had gathered pledges and started construction through interim loans. There was no reason to roll the life insurance into the final loan, Snell said. "And yet the bank insisted this was a valuable asset, and they insisted we go ahead and purchase those policies."

After signing the note in 2007, the church was on the hook for monthly payments of $8,792. But leaders assumed they would be able to sell the policies after two years. (Two years is the standard deadline for insurance carriers to contest claims.)

Terms of the loan called for the policies to be sold as soon as at least 25 percent of the face value, or about $1 million, could be obtained, according to Star's recent court filing.

Church-finance specialist Scott Rolfs said he's encountered a number of churches over the past decade that entered programs like Lindberg Road's.

"No one has shown me yet one that has actually worked," said Rolfs, managing director at the specialty investment bank Ziegler, based in Chicago.

Rolfs thinks churches are drawn to the life-insurance plans when they can't qualify for traditional financing, or they find the terms irresistible.

"The appeal of this structure is they're going to get something for nothing," he said.•