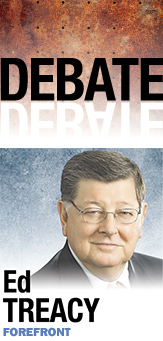 Question: Increasing numbers of voters in Marion County are choosing Democratic presidential candidates, and the City-County Council increasingly is controlled by Democrats. Is the county, once a Republican stronghold, destined for Democratic domination?
Answer: I'm going to surprise you. I'm not going to tell you Marion County is absolutely a Democratic county. It is more complex than yes or no.
Thirty years ago, Marion County and Indianapolis were among the most Republican urban areas in the country. But those 30 years have changed a lot in Marion County. This change is part demographic, part political and part governing experience.
The most significant factor in Marion County's transition toward a Democratic bastion has been Democrats governing well. Gov. Evan Bayh and congresswoman and Center Township Trustee Julia Carson deserve significant credit. Bayh governed in a financially conservative manner, created jobs and cut taxes. Before she was in Congress, then-Trustee Carson turned a $20 million deficit into a $6 million surplus.
Simply put, as Democratic officeholders demonstrated their worth, they created more Democratic voters.
Second, political campaigns matter. Part of the transition to blue in Marion County has been predicated on Democrats' recruiting good candidates and, just as important, good activists. Joining longtime party volunteers like Tom Dozier, Mae Dickinson, Mary Berry and Paul Fox are a new generation of activists: Tony Pearson, Joel Miller, Melissa Borom, Andy Miller, Jasmin Shaheed-Young, Shannon White, Andrea Scott, Brett Voorhies, Dave Duncan, Scott Carr, Sean Seyferth, LaDonna Freeman and many others.
These activists are smart, hard-working and motivated to continue the growth of Marion County's Democratic base.
In addition to the activists, Democrats are recruiting strong candidates. Just this year, the Democratic ticket includes strong newcomers such as Dan Forestall, Christina Hale, Justin Moed, Karlee Macer and Robin Shackleford for the Indiana House, Tim Delaney and Mark Waterfill for the Indiana Senate, John Chavis for superior court judge, and Claudia Fuentes for county treasurer.
These Democratic candidates work hard, voter-by-voter, to demonstrate that they will follow in the footsteps of Carson and Bayh and provide high-quality government for the people of Marion County.
Finally, and of less significance than others may have you believe, is demographics. Marion County has a rapidly growing minority population disproportionately voting for Democratic candidates because, quite frankly, the Republican Party has little to offer them.
Further, Marion County Democrats elected the first Latino judge in Marion County and the first Latina county executive in Indiana.
What does a Democratic county look like? Is it a county that has every county executive office held by Democrats? Is it a county that has a Democratic council majority? Is it a county that delivered a 106,000-vote margin to Barack Obama in 2008?
If that's what a Democratic county is, then yes, Marion County is a Democratic county.
If a Democratic county requires single-party rule in which the Republican candidates never win any offices, then no, Marion County is not a Democratic county.
The answer is, Marion County is trending Democratic because of the high quality of candidates, activists and officeholders demonstrating to the diverse Marion County voter pool that the Democratic Party is the right party to continue to lead Indianapolis in the years ahead.•
• Treacy is the Marion County Democratic Party chairman. Send comments on this column to ibjedit@ibj.com.
Please enable JavaScript to view this content.