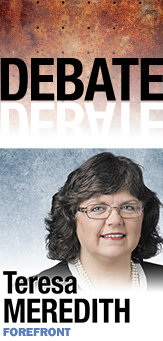 The "parent trigger," which allows parents of children in failing schools to vote to petition their school board to force major changes, nearly passed the General Assembly this year. This summer, a parent group in California became the first such group to win a court battle to enforce the trigger. Should parent triggers be reconsidered in the upcoming legislative session?
As a mom, I have enjoyed the opportunity to have an impact at the schools my four children attended. From volunteer opportunities to curriculum recommendations to serving on committees, I have worked hard to make sure their needs were covered. And there are numerous paths for parents to make a difference.
But I do not think parents need a trigger law to allow them to do what they should be doing already by advocating for their children.
So often, everyone is looking for a quick fix. Taking over a school and subcontracting it out to a private group to deal with the headaches might sound like a good idea on the surface.
However, reports show that takeover schools in other states have no record of success. I wonder if the parents who want to take over schools have really bothered to get involved in their communities and their schools to see what could be done to improve circumstances for all children before they jump to support a sellout.
Studies suggest trigger laws divide communities, create stress among parents, and cause turmoil for students. We know parent triggers demoralize educators.
I agree with school reformer Diane Ravitch, who wonders why parents would want to take control of a school and hand it over to a private company. She asks whether the tenants of a public housing project have the same power to privatize their building. How about the patrons of a public library?
Ravitch asks if states could pass a law that might allow parents to sign a petition that forces the state to provide funding to fix a building, supply books, or provide special education services, and more. What kind of spark might those opportunities set off?
As a parent, I am concerned about class size, curriculum and course offerings. When I am not happy with how something is being done, I contact the teacher or administrator. If the issues are not resolved, I call school board members and speak at board meetings. I do have a way to make my voice heard.
As an educator, I support those same efforts, but I am also interested in ways to change how teachers are supported once they enter the profession, and I want more meaningful opportunities for parents to engage in school improvement.
I think Ravitch said it best when she said, "A public school is a public trust. It doesn't belong to the students who are currently enrolled in it or their parents or to the teachers who currently teach in it. All of them are part of the school community and that community needs to collaborate to make the school better for everyone. Together, they should be able to redesign or create or discontinue programs and services. It is part of the public patrimony, not an asset that can be closed or privatized by its current constituents."
I know that students benefit when trust is established and schools and the community collaborate. My kids are lucky to have schools that are open to all and parents choose whether to be involved. Each school exists beyond the bricks and mortar and I am proud to be a part of it.
A parent trigger law is not going to change the level of engagement of parents or community members. If everyone reached out to their local public schools to lend support rather than to take over, children would be far better for it. And isn't that what our community should be about—building up, not tearing down?•
• Meredith is vice president of the Indiana State Teachers Association and has taught for more than 18 years in Indiana schools. Send comments on this column to [email protected].
Please enable JavaScript to view this content.