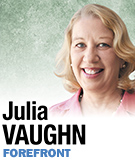 With Indiana ranked a dismal 48th for voter turnout, you would think Republicans and Democrats could agree that our state needs to take aggressive steps to increase the number of active voters.
Think again. Indiana has veered in the other direction. Indiana passed one of the most regressive voter ID laws in the country years before it become the in-vogue way to suppress the low-income, elderly and minority vote. Since 2011, eight more states have jumped on the voter ID bandwagon, although, in some of these states, the courts have stepped in to prevent the law from taking effect for this election cycle.
The courts have intervened because suppressing the vote is what voter ID is all about. In Pennsylvania, the Republican leader of the House of Representatives was caught on tape boasting to his colleagues that the state's new ID law was "going to allow Governor Romney to win the state of Pennsylvania."
It's not surprising that those challenging the constitutionality of the Indiana law had great difficulty identifying individuals who have been turned away from the voting booth because they lack ID. Those people exist; they are simply few and far between and tend to stay in the shadows.
The greater harm caused by voter ID is the people who never even attempt to vote because they lack the required government-issued identification.
We're not talking about a minuscule number of potential voters affected. According to research from the nonpartisan Brennan Center for Justice at the New York University law school, 11 percent of the voting-age population lacks the type of ID required in Indiana to vote. The percentage is even higher among elderly voters, 18 percent, and higher still for African-Americans, at 25 percent.
While the numbers of potential votes suppressed by the voter ID law is significant, evidence of the need for such a restrictive law is scant. In fact, a Rutgers University study found that, in 2005, the federal government charged more Americans with violating migratory bird statutes than with committing election fraud.
Need more proof that voter impersonation is not a widespread problem? During the Bush administration, the Justice Department initiated a five-year national crackdown on voter fraud, yet only 86 people were convicted.
Despite being unnecessary and burdensome on some voters, the voter ID law is not going away here. That's why it's important for state and local election officials to tear down other obstacles that keep people from voting.
So it's been disappointing that the Republican member of the Marion County Election Board blocked the establishment of satellite early-voting locations in Indianapolis. He is able to do this because, after Republicans gained control of both legislative chambers, they changed state law to require a unanimous election board vote on any early-voting policies.
But it's not just election officials behaving badly. Groups like the Tea Party-inspired True the Vote are recruiting volunteers to challenge the legitimacy of voters at targeted precincts, most often in low-income and minority neighborhoods. Even if their challenges fail, they succeed in holding up the process, creating long lines and an atmosphere of intimidation.
Other dirty tricks are afoot. Recently, Secretary of State Connie Lawson warned voters in Tippecanoe County to not be duped by robo-calls from a mysterious group named VOTE USA, which was falsely telling people they could avoid long lines on Election Day by voting over the phone.
In a tight race, these types of bully tactics and misinformation combined with less-accessible voting can make the difference between winning and losing. It's one thing to win an election through aggressive campaigning and get-out-the-vote efforts but another thing to win by preventing your opponent's supporters from voting.•
• Vaughn is policy director for Common Cause/Indiana, a nonpartisan citizens lobbying organization that works for open, honest and accountable government. Send comments on this column to ibjedit@ibj.com.
Please enable JavaScript to view this content.