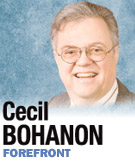 Politics is about compromise. But compromise is always around an agenda and elections are about agendas.
This simple truism makes the Indiana Democratic Party's claims that GOP Senate candidate Richard Mourdock is an uncompromising extremist both misleading and disingenuous. It also reveals their standard-bearer Joe Donnelly's real agenda: continued increases in the size and scope of the federal government. Maybe Donnelly sincerely believes he is for fiscal restraint, but a little history shows otherwise.
In 1964, Barry Goldwater ran for president on the platform of reducing domestic government spending. He was demonized as an extremist. Democratic incumbent Lyndon Johnson claimed to support tax cuts and budget reductions while simultaneously proposing a plethora of new federal programs.
The Johnson landslide ushered in an era of growth in federal domestic programs not seen since the time of FDR. By 1972, most Americans rejected LBJ's vision of expansive federal power and soundly rejected Democrat George McGovern's vision of never-ending federal programs and entitlements.
So federal spending growth was checked after 1972? No way! Congressional Budget Office data shows that, since 1972, inflation-adjusted, non-defense-related federal spending increased 3.3 percent on average per year. Put another way, after the public soundly rejected increased federal spending as a road to a better country, non-defense-related federal spending doubled in real terms over the next 40 years, anyway.
Although there were some years when real non-defense spending fell, there is no three-year period where the average annual real increase in spending was negative. The end of the Reagan years (1986-1989) and the years when the Clinton administration had a Republican Congress (1995-2001) come closest: Non-defense-spending growth fell below 2 percent in real terms on a three-year rolling average. But the trend is clear: Spend more!
Real federal spending growth is not a new issue. Reagan railed against it in 1980 and 1984 and Ross Perot carried the banner in 1992. The Democratic Party lost its 40-year monopoly on the House over the issue in 1994 and, afterward, President Clinton declared the "era of big government is over."
George W. Bush claimed to support fiscal prudence, but it somehow got lost in his fervor to engage in a war in Iraq, and although Barack Obama pays lip service to budget cuts, the record shows real non-defense spending has increased above the long-run average under his leadership. Under Republican presidents, real spending growth is trivially less than under Democratic presidents, so ordinary electoral politics don't seem to rein in the beast.
The Tea Party has a clear and unambiguous message: Solve this budget crisis without raising taxes. They are saying: "We are ready and willing to accept spending cuts to accomplish this task; moreover, we have been telling you this for 40 years. If we sound uncompromising and adamant, well, we are."
Mourdock hopes to be in a Congress with a solid majority committed to a serious agenda of constraining real domestic spending. If this occurs, maybe real domestic spending growth can be cut to average 1 percent to 2 percent per year.
Let's take the upper end of this range and then a bit and suppose spending growth had been 2.3 percent per year since 1972. Guess what? Federal spending would have been $920 billion less in fiscal year 2011 alone. That practically eliminates that year's budget deficit. This does not even factor in the reduced debt level that would make federal interest payments less than what they were.
So keeping federal domestic spending to 2 percent more than the cost of living is extremism? Then to recast Barry Goldwater—"extremism in the pursuit of fiscal prudence is no vice—moderation in the pursuit of fiscal restraint is no virtue!"•
• Bohanon is an economics professor at Ball State University. Send comments on this column to ibjedit@ibj.com.
Please enable JavaScript to view this content.