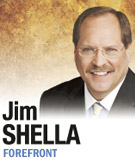 All of a sudden, when I check out news stories on the Internet, a negative political ad pops up and I can't make it go away. That is, unless I want the news story to go away, too. It's not enough that ominous messages already show up in my mailbox, on Facebook and Twitter, as well as on the TV and radio.
Our campaigns could use some balance.
That's why I took note of the performances of Mitt Romney and Barack Obama at the Al Smith charity dinner in New York the other night. They joked with and about each other.
"Usually when I get invited to gatherings like this," said Romney, "it's just to be the designated driver." Obama made the observation that they both have unusual names. "Actually, Mitt is his middle name," said the president. "I wish I could use my middle name." Everyone laughed.
"There's more to life than politics," said Romney in a serious moment.
There's also more to the politicians than what we see in the ads, or debates, or even news conferences. That's why all six statewide candidates were invited to take part in cooking segments recently on WISH-TV Channel 8's "Indy Style," to give voters a look at them in a setting that might tell you something about their personal lives. (For the record, while I work at WISH-TV, I had nothing to do with the "Indy Style" appearances and they weren't my idea.)
All six of the candidates accepted the invitations, and I'm guessing they did so for the same reason Romney went on Jay Leno's show and Obama went on David Letterman's show. They want to prove they are real people and, just maybe, reach a voter or two who is not following the campaign closely and leave a positive impression on them.
So what did we learn in the kitchen? Let's concentrate on the candidates for governor:
We learned that Mike Pence doesn't cook, at all. The Republican candidate for governor declared he makes salads (his wife, Karen, says he makes really good salads) and he calls out for pizza. He helped Karen make some apple treats intended for small children and he broke an apple slicer in the process. It was pretty clear this is a new activity for him.
Oh, and he took time to sing the praises of the Indiana apple industry.
"We think of corn and soybeans in Indiana," he said, "but part of Indiana agriculture is apples."
We learned that Rupert Boneham is in over his head.
"I had no idea what I was actually proposing when I said to the Libertarians, 'I want to be our next governor,'" he said while his campaign manager made Ramen noodles. Seriously, he said the campaign operates on Ramen and then admitted he can't compete. Oh, and he made no mention of the bugs and worms he ate on "Survivor," the competition that made him famous. Missed opportunity.
We learned that John Gregg enjoys being in the kitchen, or so he says.
"I do love to cook," said the Democrat. "My mother had three boys and I'm the one they domesticated." Gregg appeared with girlfriend Lisa Kelly and made watermelon salsa with her help. He called it "Hoosier caviar" and said all the ingredients have been grown on his Knox County farm.
Now, none of that information will change the race, but isn't it nice to see candidates engaged in activity where none of them mentions his opponents? No labels, no accusations.
Finally, no matter which candidate wins, the next governor is expected to reside in the Governor's Residence (unlike Mitch Daniels) and it might be worth mentioning that the place comes with a cook.•
• Shella is WISH-TV Channel 8's political reporter as well as host and producer of the Emmy-nominated "Indiana Week in Review." Send comments on this column to ibjedit@ibj.com.
Please enable JavaScript to view this content.