Indy may be saddled with the reputation of being a chain restaurant town. But think about it: You can wander downtown and not find a McDonald's, a Burger King or a Wendy's. On the other hand, you can find a terrific new non-chain burger joint likely to make you a repeat customer.
I'm talking about Punch Burger (137 E. Ohio St., 426-5280).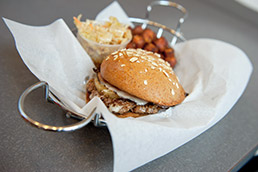 The Aloha at Punch Burger features Black Forest ham, grilled pineapple, and Swiss cheese. (IBJ photo/Eric Learned)
What makes Punch Burger work? Well, friendly service certainly helps. But the big draw is beef that hasn't crossed state lines and wasn't subjected to hormones or antibiotics. It's grass-fed at Fischer Farms in Jasper and, yes, you can taste the difference. While all their burgers feature 1/3 pound of meat, there's no effort to make them homogenous. Yours might fall apart a bit in the bun (choose between classic white, wheat or pretzel), but that's a small price to pay for individuality. All are cooked about medium well, without anyone at the counter asking you how you'd like it.
There's a multitude of ways to dress your sandwich here, but you can cut down the choices by opting for a Specialty Burger. I didn't find much difference between the Burnt Cheese variation ($6.95) or the standard Punch Cheeseburger ($5.75)—the cheese was melted, as it should be on any cheeseburger, but without any overt darkening. The delicious Good Morning ($6.25) features a fried egg (this time, you get a choice of how you'd like it cooked) and several narrow strips of bacon, though a slice of melted cheese would really complete the picture.
For me, the Build Your Own (starting at $5.25—with most toppings free) remains the best option. My choices included Swiss Cheese (you've got six other choices at $.50), lettuce, tomato, red onion, house-made cooler pickles, pineapple and Asian slaw (messy, but worth it). And while I usually skip the gimmicky pretzel bun (a 40-cent upcharge), here a softer-than-usual variation complements rather than competes. Ten sauces, from sweet chili to creamy Dijon, offer additional options.
My guests were equally satisfied with their Turkey (also grass fed and with an Indiana pedigree) and Portabella Mushroom Cap versions. Alas, while fine and satisfying, neither the Waffle Fries ($1.50) nor the Sweet Potato Tots ($2), among the limited selection of sides, merited superlatives.
There are two dining areas plus some seats at the adults-only counter. Orders are brought to you, but drinks (and silverware) are self-serve. A well-curated lineup of local beers and wine by the glass round out the beverage choices.•
__________
First in a month-long series of reviews of keep-it-simple restaurants.
Please enable JavaScript to view this content.