The subtle aromas wafting through the new headquarters of Gilchrist & Soames in Plainfield emanate from the soaps and shampoos it produces for some of the most prestigious hotels in the world.
But the fragrances also symbolize the sweet smell of success the company is enjoying.
Founded in 1975 in England, Gilchrist & Soames tapped the world's largest hotel market—the United States— by establishing its North American headquarters in Indianapolis in 1998.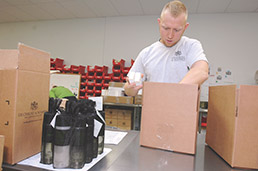 The company's warehouse in Plainfield runs two shifts to ship products to 4,500 hotels worldwide. It is hiring workers. (IBJ Photo/ Perry Reichanadter)
The fruits of its labors paid off handsomely, evidenced by the monstrous 250,000-square-foot building the company has occupied in Plainfield since August.
The maker of luxury soaps and other fine toiletries used by hotels moved from space it had outgrown southeast of downtown Indianapolis as it prepares for an expansion buttressed by a forthcoming announcement of two major contracts. Gilchrist & Soames has hired about 20 additional employees and plans to add another 20 by early next year, taking its total to about 150.
Executives declined to provide revenue figures, saying only that sales and the number of hotels the company supplies (4,500 worldwide) have grown fivefold since setting up shop in Indianapolis.
Among the distinguished clientele: Caesars Entertainment Corp. in Las Vegas, whose brands include Harrah's, Horseshoe and Bally's, and the luxurious Resort at Pelican Hill in Newport Beach, Calif. It is ranked the No. 1 resort in the United States in Condé Nast Traveler's 2011 Readers' Choice Awards.
In Indianapolis, clients include the Canterbury Hotel and the JW Marriott.
The company's spacious digs along Interstate 70 west of Indianapolis International Airport look like any other warehouse and distribution center that populates Plainfield.
So whether much of the general public knows of Gilchrist & Soames and its heft within the hospitality industry is anyone's guess, surmised Tim Kersley, the company's senior vice president.
"No one sits and thinks, 'I wonder where my bottle of shampoo came from,'" Kersley said. "It's a different model."
If hotel guests look closely enough on the 1-ounce bottles, though, Indianapolis, Indiana, is printed right on the packaging.
That's quite a distance from Gilchrist & Soames' origins across the pond.
Those can be traced to brothers Tony and Michael Karger, who began producing candles and potpourri in 1975. But its smaller hotel toiletries offshoot began attracting more interest. They named it Gilchrist & Soames because it sounded "quintessentially English," said Kersley, himself a Brit.
The company has changed hands a few times since. Potter & Moore bought it from the brothers in 1984. Then Indianapolis-based E&A Industries, led by former George W. Bush adviser Al Hubbard, acquired the company and moved North American operations to Indianapolis in 1998. E&A in 2007 sold Gilchrist & Soames for $51 million to current owner Swander Pace Capital, a San Francisco private-equity firm.
Potter & Moore originally had hooked up with a New Jersey distributor to broaden its scope in North America. It had provided its products mostly to independent, high-quality hotels as well as bed and breakfasts, playing to its English country roots, Kersley said.
But it ran the risk of being "pigeonholed," he said, so it sought out more modern properties. At the time, most hotel toiletries were common drugstore brands such as Neutrogena and Purell.
E&A ultimately acquired the global rights to Gilchrist & Soames in 2001, giving the Indianapolis company a presence on every continent except Antarctica.
The upscale hotel toiletry industry since, however, has become fiercely competitive, with some hotels even launching their own brands. The owner of the downtown JW Marriott, Marriott International Inc., has done just that. But not before Gilchrist & Soames provided it with hundreds of thousands of products the JW Marriott gave to guests in gift packages.
"They were just terrific in helping us design the packaging all the way down to figuring out the scent," said Scott Blalock, general manager of the JW Marriott.
To remain a leader in the industry, Gilchrist & Soames has introduced more collections, partnered with retail brands to manufacture hotel-size products for them, and offers its own products online, albeit in larger sizes, to consumers.
Visit Indy, a not-for-profit charged with marketing the city as a tourist and convention destination, worked with Gilchrist & Soames to have it provide products for the esteemed Society of American Travel Writers convention in September.
The 250 registrants represented some of the most prominent publications in the industry, ranging from The Wall Street Journal to specialty travel publications aimed at leisure travelers and convention planners, and their impressions can make or break local reputations.
"As we look to sophisticate the perception of Indianapolis in the visitor's eyes, it's the unique things like having Gilchrist & Soames headquartered in central Indiana that helps tell the story of Indianapolis as a thriving destination," Visit Indy spokesman Chris Gahl said. "Here's a company that has products in the most prestigious spas and hotels in the world and it's based in Indianapolis, Indiana."
There, employees design, develop and package the products in laboratory and warehouse space that contains 400-pound drums of perfume and large vats where the mixing occurs.
Two shifts of workers package the products that are stacked to the rafters in boxes waiting to be shipped.
In this industry, it's best to have too much inventory, just in case.
"If we don't have the product ready all the time, that's a cardinal sin, so we over-inventory," Kersley said. "It's all about reputation."•
Please enable JavaScript to view this content.