If a biotech startup were akin to a rock band, Kristin Sherman might be the keyboardist.

She's not front-and-center on the stage, but the ballad wouldn't be as dynamic without her pounding the chords.

Sherman, as chief financial officer, was an unsung hero in the December 2010 sale of Marcadia Biotech to drug giant Roche for an initial upfront payment of $287 million.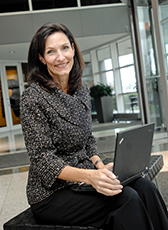 Kristin Sherman takes her office with her, providing financial expertise to early-stage drug developers. (IBJ photo/Perry Reichanadter)
"After completing the transition to Roche, the team disbanded, which is pretty normal," Sherman said of post-Marcadia life for her and her former co-workers.

Since then, she's helped advise a startup bio firm, and serves on the board of Community Health Network and on the board of the Carmel Swim Club, in which her children compete.

But that routine is about to change: Sherman and her biotech band are getting back together in a new, early-stage life sciences firm.

"We're trying to get some of the Marcadia people back together. … Kristin will certainly be part of that team," said Fritz French, former CEO of Marcadia.

Both Sherman and French were executives at Guidant, she as treasurer and he as a vice president, when the Indianapolis cardiovascular device company was sold in 2006.

Neither will elaborate on the company that could be their next big hit, but French has incorporated a firm known as Calibrium, according to a filing with the Indiana Secretary of State's Office. It will focus on diabetes and obesity, according to French's LinkedIn profile.

That Sherman is participating in another local life sciences startup is encouraging to local industry types. With finance and human resources experience working for Fortune 500 companies—Eli Lilly was her first gig—Sherman could work for any number of big life sciences firms.

"We're really lucky here in central Indiana to have someone of her qualities working with startups," said Brian Stemme, project director for life sciences group BioCrossroads.

Sherman, 46, said there's a good foundation locally for early-stage drug development firms.

"You get a certain population of people who really like the community and the quality of life here. They came out of companies like Lilly and Guidant. They're not looking to head to the coasts," said Sherman, the daughter of a John Deere executive, who grew up in Bettendorf, Iowa.

Sherman has spent the last year or so advising AgeneBio, a local firm developing compounds to treat Alzheimer's disease and other memory disorders.

Much of her work is done on a computer she drags to swimming pools where her children compete.

"The running joke is that I set up my office at pools all over the place," said Sherman, whose husband is Mike Sherman, the chief financial officer of cancer drug company Endocyte Inc., in West Lafayette.

She often jokes with her husband that he has the tough job—working for a more mature company that plans to take drug development further down the line.

She, on the other hand, has enjoyed that niche of companies that conduct early-stage research and development, companies that can find out quickly whether a particular molecule has potential for development.

"We don't want to be the next Lilly," she said.

It was Lilly that gave Sherman her start in the life sciences field, where she worked in several financial rotations. "It's the whole idea of producing something that could make a difference in the quality of life that attracted me to the life sciences."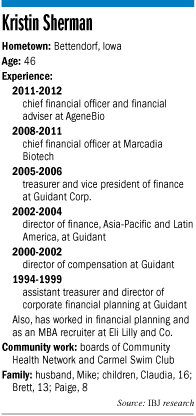 Sherman arrived at Lilly not long after earning a bachelor's in economics at DePauw University, in Greencastle.

While at Lilly, she took a two-year leave to obtain an MBA from Dartmouth College. After she got back to work, she was assigned to oversee Lilly's MBA recruiting program, something she was not expecting and causing her to think, "I just spent two years learning finance and now this?"

But it proved fortuitous later, when Lilly in 1994 spun off its cardiovascular device units into Guidant Corp., which she joined. Among her roles at Guidant was supporting the HR transition of Lilly employees to Guidant and later standardizing compensation for all of Guidant's U.S. operations.

The takeaway for Sherman is that one shouldn't dismiss opportunities to rotate into assignments that are outside one's comfort zone. "At the end of the day, you step back and say, 'That was useful.'"

The HR skills she developed at Guidant came in handy later at Marcadia, where she became responsible for all of Marcadia's human resources oversight. French had hired her in 2008, two years after Marcadia was founded by former Lilly scientists Richard DiMarchi and Gus Watanabe.

Sherman's know-how came in handy, handling everything from developing accounting and internal control processes to later working the deal to sell the company to Roche for a small fortune. Some of that experience was honed by working on the transition of Guidant to Boston Scientific and to Abbott, six years ago.

Sherman's work at Marcadia ranged from meeting with Roche's internal team to working with external lawyers to venture funding firms that had poured millions into Marcadia years earlier.

"She's just a doer. She gets it done by herself," French said.

"She's really good at digging into details and understanding how to value a company," said Stemme of BioCrossroads.

Many of these startups begin as "virtual companies," without even an office in the early days, Sherman said. She's helped create the structure they need to advance—fundamentals such as accounting, HR and IT. Potential future partners or acquirers "want to make sure you didn't generate the clinical trial data in your garage," she chuckled.

"Even though the likelihood of an early-stage device or drug ultimately reaching the market is low, when you hit on the one that has the potential to truly impact patients' lives, it's tremendously rewarding."

Time will tell whether the old band can crank out another hit.•