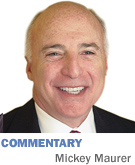 Now that the Tea Party has swapped the best public servant in the United States Senate and a sure Republican seat for newly elected Joe Donnelly, a Democrat, perhaps it's time moderate Indiana Republicans stand up and reclaim the party.
OK, we goofed. We didn't encourage Sen. Richard Lugar to help identify and groom a candidate. Perhaps some of us did not want to be represented by an octogenarian and too many of us did not vote in the primary.
Into this void leaped Richard Mourdock, who vowed after winning the primary that he would never be President Obama's favorite Republican. Guess what? At best he was uncompromising and inarticulate. At worst, well, I know what it's like to be represented by a screwball. Dan Burton has been my Congressman since I was old enough to vote.
Many moderate votes were cast for Governor-elect Mike Pence. We trusted him when he tamped down his social agenda and stressed important issues: education, jobs and economic development. (I liked his style: positive, articulate and business-like—a good contrast to the folksy John Gregg. I liked Gregg's style too).
Moderate Republicans must remind Gov. Pence of that trust and hold him accountable, not only on the issues he raised during the campaign but for a moderate, sensible social agenda as well.
We have had enough of legislative attempts to mix science and religion in the same soup and ladle it to our children. The bill passed by the Indiana Senate last year allowed schools to teach creationism along with evolution in science classes. That drew widespread media coverage and triggered condemnations from scientific organizations in this state and across the country.
Some national observers said that the Senate's action was an example of stunning stupidity. House Speaker Brian Bosma killed the bill when it reached the House.
Classrooms should be places to develop critical thinking skills and encourage logical analysis and open and objective discussions of scientific theories. Creationism is not a scientific theory. There is absolutely no evidence to support creationism—it seeks a supernatural explanation and must be taken on blind faith. It is not science.
It is OK to believe in creationism, but it should not be taught in science class. If taught at all, it could be taught in classes on comparative religions or perhaps literature.
We also have had enough of the marriage rights amendment. This hateful legislation not only prohibits the union but the other benefits of marriage attached to any married couple. Under the proposed legislation, homosexuals cannot receive violence protection against assault by their partners, cannot automatically make health care decisions for their partners in an emergency, cannot qualify for partner's benefits for health insurance or life insurance, cannot share custody of their shared children, and cannot adopt.
This measure is nothing less than an unnecessary trampling on the rights of an innocent minority. It shamelessly panders to the homophobic fringe element of our Hoosier population. If approved, the amendment will have an adverse effect on business and economic development. Indiana undoubtedly will lose convention business and many of our finest citizens will find friendlier communities in which to live.
And we have had enough of efforts to defund Planned Parenthood. Eliminating public support for the organization curtails, if not denies, access to needed health care by the poor and uninsured. Countless patients will find themselves without birth control and life-saving tests that may allow them to avoid the tragic outcomes of cervical and breast cancer and sexually transmitted disease.
This irrational assault on sound public health policy is a blind attempt to reduce abortion. But by causing a greater number of unwanted pregnancies, it likely would have the opposite effect. Cutting off Planned Parenthood jeopardizes millions in federal funding. Denying access of the poor to birth control would increase the number of Medicaid-covered births in Indiana—already one of the highest rates in the country.
Moderate Republicans, let's take back our party. If Gov. Pence doffs the cloak of rationality and supports the social initiatives that threaten our freedom, our humanity and our place as Hoosiers in the 21st century, let's remind him that Richard Mourdock, the Democratic Party's favorite Republican, is sitting on the curb.•
__________
Maurer is a shareholder in IBJ Corp., which owns Indianapolis Business Journal. His column appears every other week. To comment on this column, send e-mail to mmaurer@ibj.com.
 
Please enable JavaScript to view this content.