Specializing in hot dogs is a dicey proposition. Oh, the downtown King David seems to be doing well in its new, expanded location, and you can find plenty of thriving sausage shops in bigger cities. But without foot traffic to support it (and Indy is woefully short on foot-trafficked places), a dogery usually has trouble cutting the mustard.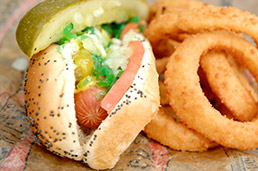 Don't look for ketchup on a true Chicago Dog. (IBJ Photo/ Perry Reichanadter)
The minds behind Chicago Hot Dog Co. (8320 N. Michigan Road, 808-5950), filling in a former La Bamba location, protected their investment with solid food, reasonable prices and a good soundtrack (a little Sinatra, some blues, a bit of Kander and Ebb). A BMV office across the parking lot might also help generate traffic.
As for the food itself, the cheese sauce was laid on a little thick for the Windy City Chili Dog ($3.79 plus 49-cent upcharge), obscuring the taste of both the Vienna beef dog and the chili. Better was the Chicago Hot Dog ($2.99) in which the mustard, relish, sport peppers, tomato and onions blended nicely into an accurate taste of the City of Big Shoulders. The only problem was that most of the celery salt was caught by a pickle spear that ran the length of the dog.
The owner, transplanted Chicagoan Brian Jessogne, knows his way around Italian Beef ($4.99) and Italian Sausage ($3.99). The beef, served dry, wet or dipped, is made daily and served on French bread strong enough to hold the meat, even when saturated. The char-grilled Stockyard Burger ($3.99) won't win any awards, but it's a respectable alternative that starts with a 5.3-ounce Angus beef patty.
Sides are limited to Krinkle-Cut French Fries ($1.59/$1.89) and Onion Rings ($2.19), both satisfying. On one of my visits, the former arrived cold but the staff happily took them back and quickly replaced them with an upsized portion, hot and delicious.
If a Chicago Dog and fries aren't enough of a treat, there's more. A traditional straw proved the wrong delivery tool for the Strawberry Shake ($2.69/$3.69), which needed a spoon. Big, chunky, locally made cookies ($2.19) and sliced Italian Lemon Cake ($3.29) demonstrate the wisdom of delivering solidly on limited choices.
Did I mention foot traffic? What's really needed after a meal here is a place to walk it off. Perhaps a stroll over to Lowe's … •
__________
Second in a month-long series of keep-it-simple restaurants
Please enable JavaScript to view this content.