At 2-3, the Indiana Pacers aren't off to the hottest start on the court.
But if they can manage to gain some momentum, even without injured star forward Danny Granger, the franchise can tap into a more engaged fan base.
The Pacers season opener on Oct. 31 generated a TV rating of 3.3 in central Indiana on Fox Sports Indiana, making it the highest-rated Pacers opener since 2007, according to New York-based Nielsen Media Research. Clearly, Pacers fans are ready to see what the team can build after last year's playoff run.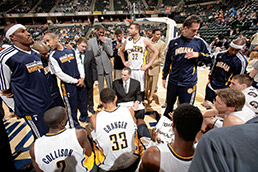 Forward Danny Granger, No. 33, is injured, and will miss the first three months of the season. (IBJ file photo)
The Halloween telecast peaked at 6.3 (69,000 area households) in the fourth quarter as the Pacers scratched back from an 11-point deficit to post a 90-88 win at Toronto.
The 6.3 rating was higher than the peak of any regular-season game last year. The overall rating was an 11-percent increase over last year's road opener.
The Pacers' second game on Nov. 2 at Charlotte posted a 3 rating, peaking at 5.4 during the fourth quarter.
Through the team's first three games, TV viewership on Fox Sports Indiana was up nearly 10 percent over the 2010 season. Ratings for the first three games of the strike-shortened 2011 season were not available.
In addition to strong TV viewership, the Pacers sold out their home opener at the 18,165-seat Bankers Life Fieldhouse Nov. 3. Last year, the Pacers sold out six home games. This season, team officials are confident they can double that number.
Please enable JavaScript to view this content.