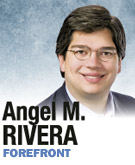 My generation of Hoosiers has elevated expectations for government. It must be environmentally friendly, embrace technology, help our neediest, treat everyone equally, and manage finances responsibly.
Mitch Daniels surprised many when he proposed a balanced budget in his first legislative session as governor. It included a proposal for a temporary tax increase to fill a budget gap. While that idea was promptly rejected, his zeal for responsible government set an example that many of us have sought in candidates for office ever since.
As Republicans ask ourselves what our party must stand for to succeed in the 21st century, responsible government is the first and foremost; it starts with balanced budgets and prudent spending decisions.
Americans don't like politicians to behave too much like politicians. Congress is the Major League Baseball of ideology debate, often driven by a race for job security. This might explain its abysmal approval ratings.
Greg Ballard as a candidate and mayor has been a reliable source of common sense. Instead of distracting himself with political bickering, he has kept up an unrelenting pursuit of effective government. His efforts were rewarded last year at the polls and should serve as an example to Republicans attempting to define the party for future elections.
Local governments across America are struggling to balance budgets. Layoffs, strikes, deficits, credit downgrades and tax increases are the norm for many peer cities. Public safety departments have not been spared the cuts. Teachers in Chicago had major strikes. Cincinnati laid off police officers. Detroit de-annexed neighborhoods.
Indianapolis has not been spared the consequences of decreased income and property tax revenue. Unconventional measures have helped offset the losses. Those measures are often controversial and require careful planning, but their success proves that working across party lines, engaging city leaders in the process, and vetting proposals through many public forums can lead to results.
The Department of Code Enforcement is now fee-funded, freeing up tax dollars for services. Parking meter rates were increased as part of a concession agreement that privatized management and operations, modernized the meters, added credit card readers, and allows for smartphone transactions. The new funds will go to infrastructure in neighborhoods with meters (downtown and Broad Ripple) for the next 50 years.
At a time of high unemployment and low construction costs, the transfer of the water and sewage utilities to Citizens Energy Group is funding unprecedented investment in roads and sidewalks all over the city. It has also accelerated the demolition rate of abandoned properties. Rebuild Indy will leave a legacy in communities all over our city. It should also reduce the number of potholes for 20 years.
Last month, the City-County Council passed the 2013 budget. It raids the Capital Improvement Board of reserve funds necessary for debt payments and maintenance on the stadiums and convention center. It also leaves a $35 million deficit to the 2014 budget.
Ballard used the line-item veto to make deep cuts in the budget of the council office and county elected agencies. There has been little public opposition to this veto. The mayor is popular, and raiding CIB reserves received a cold reception by city leaders and nonpartisan sources. Tough compromises are necessary to achieve fiscal balance, and both sides must come to sustainable terms for the benefit of the residents of Marion County.
Indianapolis will rise above its budgetary challenges through careful negotiation between the mayor and council. A balanced budget that provides for high-quality accessible government should continue to be the main goals in this discussion.•
• Rivera is a sales consultant and former at-large city-county councilor. Send comments on this column to [email protected].
Please enable JavaScript to view this content.