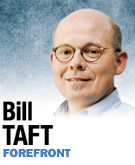 The recession affected some older Indianapolis neighborhoods differently than it did the larger metro area housing market, with areas of Marion County taking particularly hard hits.
These neighborhoods suffer from deteriorated or outmoded older housing, lack of quality amenities nearby, perceived or real weakness of urban school options, and the need for high-quality transit.
However, the right strategies—making it easier to buy and renovate homes, helping developers redevelop entire swaths of the neighborhoods, and improving mass transit—would give these weaker areas a shot in the arm.
That was the consensus of a housing conversation hosted recently by Local Initiatives Support Corp. to determine the major structural challenges facing urban neighborhoods and what it would take to strengthen demand in neighborhoods that have lost population.
The experts convened included Debbie Evans of the Metropolitan Indianapolis Board of Realtors; Leigh Evans from Mapleton Fall Creek Community Development Corp; Adam Thies, the new Department of Metropolitan Development director; and John Watson from Core Redevelopment.
Statistics generated by the Metropolitan Indianapolis Board of Realtors reveal very different housing market dynamics within the metro area.
Since 2000, the nine-county central Indiana area has experienced modest growth in sales prices, while Marion County prices remained flat and prices in the Indianapolis Public Schools service boundaries dropped 26 percent.
Changes in the total number of sales reflect similar trends, with a gradual increase in sales across the region, a small decline in Marion County, and a steep drop in IPS. Downtown has been an outlier, with no growth in sales but a 68-percent increase in sale prices.
While the trends within IPS reflect a steadily declining housing market that now contains most of the approximately 14,000 vacant and abandoned homes in Marion County, the strong growth in downtown values reveals rising demand for urban living. The forum identified a number of clues for how to spread this small-scale urban housing vitality into the surrounding IPS district.
Interest in urban living by generations X and Y could be converted to housing purchases with the right housing product and environment.
The second clue is to make it easier for buyers to purchase older homes that need work. Mortgages will need to pay for a much higher percentage of renovation work in a transaction.
A third clue is that many homes are substandard or so poorly located that they will never attract a resident and should be demolished.
Finally, while home buyers and renters might be increasingly interested in urban living, they still demand high-quality amenities. This primarily means access to quality public education—a challenge that a growing number of magnet and charter schools are beginning to provide to the IPS area.
Since walkability is a major draw to urbanism, these neighborhoods must also offer sidewalks or bikeways to nearby shopping, entertainment or recreation. Ultimately, urban living will maximize its value only when residents can save up to 25 percent of their income by using high-quality public transit instead of owning a car.
It is encouraging that even some non-downtown urban neighborhoods like Holy Cross, Fountain Square and Mapleton-Fall Creek are beginning to offer many of these attributes. Ultimately, to achieve a true rebirth of the urban housing market, there must be significant private investment spurred by public investment in the key amenities.
If Indianapolis is to prosper, we must rebuild infrastructure to revive urban housing.•
• Taft is Indianapolis executive director of Local Initiatives Support Corp., a not-for-profit that invests in neighborhood redevelopment projects. Send comments on this column to ibjedit@ibj.com.
Please enable JavaScript to view this content.