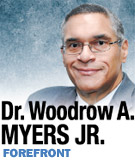 Breast cancer is not one disease; it is many diseases. And although it is not limited to women, women over the age of 50 are at the highest risk.
We still debate the exact causes of breast cancer. We know it is linked to heredity (women with strong family histories, and who carry certain genes have a higher incidence). We know it is linked to the hormone estrogen (and women who start menstruation before age 12 and have their first child after age 30 are at higher risk). We know that women who are obese and who drink alcohol (more than two drinks a day) are at higher risk, as well.
There is still a debate over whether high-fat diets and hormone therapy after menopause are contributors, but today we know a lot—and we'd like to know more.
In Indiana, breast cancer is the leading cancer in women and the second deadliest (right behind lung cancer). Today, mammograms are still the best screening tool and are widely available to detect breast cancer at its earlier stages, when treatment works the best.
In 2000, Congress authorized the Centers for Disease Control to offer the National Breast and Cervical Cancer Early Detection Program to low-income women. In a recent five-year period, almost 16,000 Hoosier women took advantage of the program and received mammograms, about 17 percent of which were abnormal; over 230 cancers were diagnosed.
We should feel proud we are making progress in detecting the disease earlier and in more women. However, these results are not good enough.
The next major evolutionary step is to find the disease in its microscopic stages before a mammogram is able to detect it or, even better, to predict which women will get the disease before it starts. To get to that point, researchers need to study normal breast tissue before it becomes abnormal and find the "clues" that best predict when, how and in whom the change from normal to cancerous will occur.
The Komen Tissue Bank at the Indiana University Simon Cancer Center is now the leading center in the world for helping scientists map those changes and make those predictions.
The tissue bank at IU collects samples of normal breast tissue from women volunteers along with a blood sample and a questionnaire and makes the information available to the best scientists around the world. By learning more about the DNA and the medical history of women who do not have cancer in their breasts today, we are better able to learn what causes the tissues to change and for cancers to develop. This research is especially important for African-American women whose breast cancers are often more serious and more aggressive.
The entire process of donation takes about an hour or so and, except for the pinprick to draw the blood sample and to insert the local anesthetic to obtain very small (but important) amounts of breast tissue, it is painless. The volunteer donor can go back to work or to the kids or to the laundry as soon as she is done with the donation. And as soon as the sample is obtained, it is processed and analyzed and made available (anonymously) to only the best research institutes around the world.
Some of us are able to donate funds to help the research to stop this disease. Others raise money and awareness through our bake sales, our runs and our walks. Those few of us who play professional football help out by wearing pink shoes and pink wristbands during our games in the month of October.
Today, women, by giving just a little of themselves, can now make a new and enormously beneficial difference, right here in Indianapolis.•
• Myers is a former chief medical officer for WellPoint Inc. and served as health commissioner for Indiana and New York City. Send comments on this column to ibjedit@ibj.com.
Please enable JavaScript to view this content.