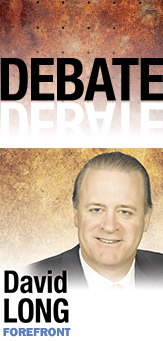 QUESTION: What is your caucus' agenda for the 2013 General Assembly?
ANSWER: As the smoke clears from the election season, Hoosiers have turned their attention back to the Statehouse. The newly elected members of the General Assembly have a long to-do list. Passing a balanced budget, examining education reforms and updating our criminal sentencing structure are just a few.
The upcoming session will begin and end with passing a two-year state budget. My colleagues and I have spent the last four budget sessions getting the state's finances back in order by passing honestly balanced budgets that live within our means without gimmicks. The people of Indiana have high expectations, and rightly so.
For Hoosier families and businesses to succeed, we have to protect the healthy business climate we have built. Our state has added more than 146,000 private-sector jobs since the low point of the recession, significantly outpacing the national rate of growth. Indiana is now ranked the best business tax environment in the Midwest and among the best in the United States.
It's encouraging that Indiana is creating jobs faster than the rest of the country, but there is more work ahead.
We must remain firm in our commitment to fiscal responsibility. That means keeping taxes low and paying attention to economic forecasts to prepare for global events.
The Senate will take a hard look at Gov.-elect Pence's proposal for a 10-percent reduction in the state's individual income tax rate. Senate Republicans have long supported low taxes, but we must be sure this can be done in a fiscally responsible way. We must continue growing the Hoosier economy so we can put money back into Hoosier taxpayers' pockets and still fund vital state services. Since the final economic forecast used to help craft the budget won't be completed until April, this issue is one we will have time to consider.
If Indiana hopes to remain competitive and continue attracting high-skill jobs, we must have the work force to match the job demand by ensuring our K-12 students are prepared for college and beyond. With a new superintendent of public instruction leading the Department of Education, Republicans and Democrats will have to sit down and discuss new policy ideas. However, we should not expect any rollbacks of education reforms that have brought about achievements and have given parents more choices about where to send their children to school.
Still, we will scrutinize the impact education reforms are having, and if there's a consensus to tweak or improve them, we will be open to doing so.
A summer study committee has been conducting an examination of the Department of Child Services, including the effectiveness of the statewide child abuse reporting hot line and the long-range needs of the Hoosier families DCS serves. There will be legislation to create improvements before the session concludes in April.
In addition, I expect lawmakers will examine the recommendations made by a multi-year commission charged with making comprehensive updates to Indiana's felony sentencing structure. This is an enormous undertaking, but one that is needed to better align the penalties for state crimes.
Indiana has a firm foundation in place, but there is much work to do. I challenge my Senate and House colleagues to renew their commitment to responsible leadership and out-of-the-box thinking in order to tackle the challenges. If we do so, Indiana will keep its place as a national leader in economic growth.•
• Long is president pro tem of the Indiana Senate. He represents District 16 in Fort Wayne. Send comments on this column to [email protected].
Please enable JavaScript to view this content.