Chris Baggott's herd of pigs spent the height of acorn season rooting around on 100 wooded acres in Brown County, and now they're back at Tyner Pond Farm, nestling in the straw while rain and snow fall outside the barn.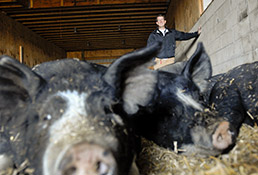 Chris Baggott's Tyner Pond Farm raises heritage-breed pigs. (IBJ photo/Perry Reichanadter)
"I like these animals," Baggott said. "I like that we can make them happy."
Baggott is well known in the tech world as a co-founder of the e-mail marketing powerhouse ExactTarget, but his latest startup is this small, direct-to-consumer livestock farm in Hancock County. He's spent the past year and a half raising cattle, pigs and chickens on pasture, rather than conventional feed grain, and without the use of hormones or antibiotics.
The eat-local movement has created enough demand that Baggott thinks he'll have no trouble turning an operating profit in 2013. Probably like many of his customers, Baggott's zeal for a more natural diet came from reading Michael Pollan's best-selling book "The Omnivore's Dilemma." But he isn't the kind of guy who can do some shopping at a farmer's market and call the conversion complete. Baggott wants to prove that anti-industrial farms like his can feed America.
"We cannot afford to take care of these people," he said of the nation's growing obese population. "And we're making them sick by feeding them cheap food."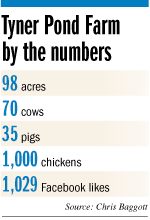 Ali Roach, who worked with Baggott at ExactTarget and later started Compendium with him, was surprised by his sharp turn from the tech world into agriculture. Then again, she said, Baggott doesn't do things halfway.
"When Chris becomes passionate about something, he really invests everything in it," Roach said.
Farming carries the same David-versus-Goliath themes that drew Baggott, 52, to Internet marketing back in 2000. "One of the most fantastic aspects of Internet marketing is the democratization of it," he said.
Businesses no longer have to "rent" their audience through mass media; they can build their own. Likewise, raising livestock solely on pasture means cutting out the middleman of giant ag companies.

Baggott
Baggott, who was ExactTarget's chief marketing officer, wants to use his know-how to help his new colleagues get beyond farmer's markets. "It's an important channel, but this movement has to become more mainstream."
Baggott blogs, he sends a weekly e-mail, and Tyner Pond recently surpassed 1,000 Facebook "likes." When Facebook users like a business, they open the door on their personal network to advertising. So, Tyner Pond could use those likes to create 400,000 ad impressions on people who have things in common—say, shopping at Whole Foods or living in a certain ZIP code, Baggott said.
"The food movement and social media are really perfect," he said. "People want to be part of it, and they're happy to share it."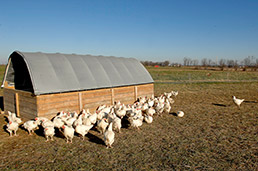 Tyner Pond Farm raised 1,000 chickens in its first year and is shooting for 5,000 in 2013. (IBJ photo/Perry Reichanadter)
Tyner Pond is selling everything it produces, Baggott said, but production is limited because it takes time for animals to breed and grow. He started with 70 cows, including a bull, 35 pigs and 1,000 chickens. Next year, he expects to double his herds and to have 5,000 chickens.
In the first year, the farm had about 150 customers and, thanks partly to a guest house on the property that he rents out, more than $100,000 in revenue, Baggott said.
He sells only in the Indianapolis area, though orders are placed online. Because orders come in before meat is ready, he sells at a set price. A whole chicken is $12. While that's more expensive than a conventional bird, Baggott said he tries to match his prices to all-natural brands found in grocery stores.
Seven Sons Family Farms in Roanoke, which switched to pasture-raising livestock 13 years ago, is light years ahead of Baggott in experience, but co-owner Blaine Hitzfield thinks the entrepreneur has something to offer.
Hitzfield got to know Baggott as a fellow meat producer, and they started talking about the lack of e-commerce software designed for farmers. Seven Sons distributes to more than 2,000 customers in three states. The broad distribution territory and the co-marketing of specialty goods like cheese for other producers make the business complex.
Unlike most businesses that sell online, Seven Sons limits its shipping reach. Its growth is through neighborhood, church or office-based buying clubs, and there's no customer-service software that matches that model, Hitzfield said.
"People like Chris could have a role in furthering innovative production ideas and systems," he said, "even through financial investment."
Hands-on management
Tyner Pond resulted from practicality and shrewdness as much as big ideas.
A longtime resident of Greenfield, Baggott found the 98 acres for sale while bicycling on his route east of town. He bought the property, which needed a lot of work, in 2010 for about $500,000, less than the typical price of $6,000 to $10,000 per acre.
Baggott planned the farm—watching videos, reading, visiting other farms around the country—with a friend and business partner, Daniel "Duffy" Farrell.
Farrell did much of the prep work on the farm, but then died in a motorcycle crash in July 2011.
Losing Farrell forced Baggott into day-to-day management, and he took a sabbatical from Compendium. Having trained Farrell's brother as a manager, he plans to return soon to the company, which makes software that allows businesses to repurpose marketing content for social media platforms.
Tyner Pond's hottest product so far is the three-bedroom guesthouse, which is constantly booked with family reunions, corporate retreats and weddings, Baggott said. A replica of the early 20th century style with a wide front porch and oversized dormer on a peaked roof, the house adds a quaint look and some much-needed cash flow.
Learning curve
As a novice, Baggott has made some mistakes. His most expensive was starting with a herd of Waygu cattle. The leggy Japanese breed turned out to be a flighty, picky-eating bunch, Baggott said. So he spent $60,000 to ship South Polls, which graze more efficiently, from Missouri.
Baggott knows his corn-growing neighbors are skeptical of his operation. He's slowly turning tillable land back to grassy pasture and planting trees. The property is dotted with moveable sheds and coops, which follow his rotating herds and flocks.
Yet when he held a farm tour in September, conventional farmers were in attendance along with the foodies from Indianapolis, Baggott said.
Burl Bearhope, who's been raising corn, soybeans and a few cattle in the area for 30 years, helped Baggott with heavy-equipment work and other nuts-and-bolts of farming.
"It carries a lot of merit," he said of Baggott's methods, which were adopted from a farmer featured in Pollan's book. "It's more your older style of farming and pretty ingenious, actually."
Most would-be farmers don't have the wealth that comes from a success like ExactTarget behind them. With the house, new outbuildings and livestock, Baggott said he invested several hundred thousand dollars, on top of buying the land.
Baggott knows he might never recoup his fixed costs, and he doesn't really want to. He has four children, ages 20 to 12, who help plant trees, make deliveries and do chores.
"I hope my kids take over this farm," he said.•
Please enable JavaScript to view this content.