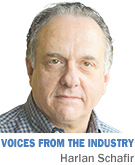 Now that the election is over, it seems clearer that the Patient Protection and Affordable Care Act, or Obamacare, will likely move forward. The question is whether business owners will be able to steer their employees to state exchanges and wash their hands of health care coverage.
We all have seen numerous comments from business owners stating they are fed up with health care and will let their employees go to the exchange to buy coverage. The assumption is that having employees use the exchange will ease the burden of providing health care coverage, and most likely will reduce the cost of doing business. I do not agree.
Happy, engaged employees are important to the success of most businesses. Anyone who has done hiring knows that, in addition to salary, benefits have become an important consideration in evaluating whether high performers come to work for your company instead of another.
I have always said that how we treat our employees is how they will treat our customers. High-performing employees are key to a company's success. Caring for their needs gives us a connection to each employee, differentiates us from the competition, and allows us to attract and retain the best talent.
Despite high unemployment rates, most businesses complain that they still struggle to find great talent.
Health care options still confuse and frustrate most employees. They usually need help evaluating choices even though we present them with only two or three plans. How frustrated will employees be when they are sent to the exchange and have 20 or more plans to choose from? Whom will they go to for guidance and education, and who will navigate them through this process?
In the end, if we have frustrated our work force, what have we accomplished?
If the exchanges address health insurance, what about the dental, vision and life coverage that most employers offer? Whether you are in the exchange or not, similar plans will be priced about the same.
Areas like this affect how employees feel about their employer.
Many estimate that, when the provisions of the act are implemented in January 2014, most companies will experience noticeable price increases for health insurance.
In fact, with the guaranteed insurability provision of the health care act, it is possible that some workers may pay the fine versus incurring the higher medical plan cost. Remember, if they are diagnosed with a major illness, they will be able to obtain coverage with no penalty for any pre-existing medical condition.
Regarding implementation of the act, most everyone expects some modifications to be made to the law, especially as the true costs become evident. Many states have yet to declare if they will operate a state exchange or turn it over to the federal government. The deadline is being pushed back, but consider:
The deadline for implementing a state exchange is Jan. 1, 2014. This will affect individual policies and companies with fewer than 100 employees; those over 100 employees will be affected later.
Most of the states have not done any real planning on how to execute an exchange. Many of the states have, or will elect to have, the federal government run theirs. My opinion is that this number will be larger than originally projected.
Don't be surprised to see the January 2014 date for implementation of the state exchanges extended.
The actual language of the law is extensive and business owners are frustrated, unable to predict the real effect it will have on their businesses and what their next steps will be.
Businesses will continue to struggle to attract and retain key talent. Having a good benefit plan and making the plan's implementation clear and not frustrating could have a positive effect on talent management.•
__________
Schafir is chief visionary officer of Human Capital Concepts and Exacthire, both headquartered in Indianapolis. Views expressed here are the writer's.
Please enable JavaScript to view this content.