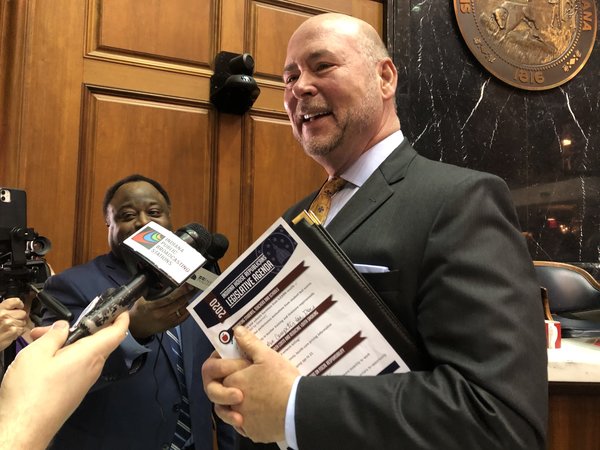 Brian Bosma, the former speaker of the Indiana House of Representatives, is now a registered lobbyist in Indiana, but said he isn't planning to spend much time hanging out in the halls of the Statehouse.
Bosma said he will be active in his role as a senior consultant and partner for Brownsburg-based 1816 Public Affairs Group LLC in the coming 2022 legislative session, but his focus will be more on helping clients navigate the legislative waters than persuading lawmakers.
Bosma, a Republican, stepped down from his seat in the Indiana House in July 2020 after holding it for 34 years, with 12 of those as House speaker, making him Indiana's longest-serving speaker to date. He was the top House Republican as either speaker or minority leader for almost two decades from 2001 to 2020.
Following his retirement from the House, Bosma joined 1816 Public Affairs as a senior consultant. But he was not a registered lobbyist, observing the state's ethics statute mandating a one-year cooling-off period before a former lawmaker can lobby former colleagues, a law Bosma co-sponsored and helped pass in 2010.
Political consulting is allowed under the statute, just no lobbying or advocating directly with legislative personnel about legislative decisions, Bosma told IBJ.
During his one-year "cooling off period," Bosma said he strictly kept his role to consulting with the  lobbyists at 1816 and their clients on a number of issues he had knowledge in. He was "exceptionally careful" to not violate the statute, he said.
"When firewalls were needed, I just did not contact any legislators about legislative decisions. I was very careful not to do that," Bosma said.
Now that the year is up, he can reach out to legislative personnel, staff and legislators to advocate on behalf of a number of 1816's clients "when the time is right," he said.
Bosma's primary focus remains on the increasing responsibilities he has at the law firm where he is a partner, Kroger Gardis & Regas LLP. He won't be back at the Statehouse on a regular basis, he said.
"I don't expect to be hanging out in the halls over there. But, you know, I may darken the doors occasionally to sit down and have discussions with legislators," Bosma said.
1816 is an Indianapolis-based multi-client lobbying and association management firm.  Bosma said he uses his 34 years of experience "in the trenches" of the Legislature to provide realistic guidance to clients who might not know how processes work in the Statehouse.
"That's an area where I can excel and also advise as to how chairmen handle various committees—you know, who's not appreciative of amendments, who the right people might be to approach on issues on both sides of the aisle," Bosma said.
He said his main interests are working with clients in the education arena, economic development matters, construction or the food and beverage sector, to name a few.
Some of 1816's clients are in the gaming industry, including Spectacle Entertainment, and sports betting companies FanDual and DraftKings, according to filings on the Indiana Lobby Registration Commission's public dashboard.
Bosma said he will "probably not get deep into pro-gaming issues," because of his historical involvement. He might work on strategy for clients in the gaming sector, when it's appropriate.
Bosma's recent history with the gaming industry dates to the 2019 legislative session when he recused himself from voting on major gaming legislation that gave Terre Haute a casino license and allowed two lakeside casinos in Gary, owned by Spectacle, to combine and move inland.
His law firm, at the time, was contacted by an investor in Spectacle and Terre Haute businessman Greg Gibson to provide legal services to the Vigo County Capital Improvement Board.
The Terre Haute casino venture, and Spectacle, have been the center of controversies since then. The Indiana Gaming Commission forced two top executives to give up their ownership stakes in the project last year amid investigations into allegations of financial wrongdoing, and later pulled the license for the Terre Haute casino away from the operators they had previously been involved with.
Please enable JavaScript to view this content.