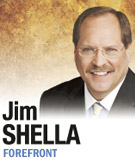 Ten takeaways from a memorable November election in Indiana:
• Style matters over substance. State School Superintendent Tony Bennett pursued the same education reform initiatives Gov. Mitch Daniels did, from vouchers to charter schools to more accountability. Daniels is popular and Bennett got thrown out. The hard-charging former basketball coach was a little too intense for teachers and most voters know a teacher.
• Better lucky than good. The woman who defeated Bennett was the subject of numerous "Who is Glenda Ritz?" stories on the day after Election Day. The real choice was Tony Bennett versus Not Tony Bennett. Not Tony won and suddenly Ritz is the Accidental Superintendent. She may become the Maytag repairman of state government with nothing to do as Republicans who control the Statehouse seek to make her irrelevant.
• Redistricting matters. The GOP controlled the redistricting process. They picked up a seat in Congress, held a super-majority in the state Senate, and won a super-majority in the Indiana House with a nine-seat gain. Democratic dysfunction highlighted by a leadership battle mid-campaign helped, too.
• Split tickets rule. It's been called the Hoosier Fairness Theory. Indiana voters tend to shun straight-ticket voting. Ballots that went from Romney to Donnelly to Pence were common. It demonstrates that most Indiana voters are in the middle.
• Bet your head, not your heart. How many special-interest groups made costly mistakes by backing the wrong candidate? Chris Chocola and Club for Growth spent millions defeating Dick Lugar in the GOP Senate primary and millions more backing Richard Mourdock unsuccessfully in November. Bad investment. How much did it have to do with the fact that Chocola lost his seat in Congress to the guy who beat Mourdock, Joe Donnelly? Karl Rove bet wrong on that race, too, along with a long list of others.
• What Tea Party? Public opinion surveys show that only about a quarter of Indiana voters have a favorable view of the Tea Party, and by the time polls closed, Tea Party candidates Mourdock and Mike Pence declined to accept the label. Does Jackie Walorski's victory in the 2nd Congressional District count as a Tea Party win? If so, it might be the only one in Indiana in 2012. Again, primary wins that result in November losses don't count in my book.
• Stay away from the issue of rape and abortion. Mourdock learned that the hard way. He became the Bill Buckner of Indiana politics with one sentence. (You know, the guy with the Boston Red Sox who let a ball and the World Series roll through his legs in 1986.) Suddenly, the so-called "war on women" had new meaning and Mourdock fell into a gender gap. Mourdock's non-apology apology didn't help much, either. Then, his concession speech that essentially blamed the voters. Need I go on?
• Surrogates don't matter. Bill Clinton may have helped Donnelly, but it was John Gregg who invited him and Gregg came in second in his race. John McCain led a raft of GOP senators who campaigned for Mourdock. The one who canceled following the rape remark, Sen. Kelly Ayotte of New Hampshire, might have made the biggest difference.
• Super PACs never buy a positive ad. The TV stations that ran the ads? They won.
• Voters can be sophisticated. I refer you to the Fishers referendum on becoming a city. The opponents to city status (who also run the place now) constructed a complicated two-question referendum that required voters to say "No" on question 1 and "Yes" on question 2 in order to create a popularly elected mayor. The voters figured it out and did the right thing.•
• Shella is WISH-TV Channel 8's political reporter as well as host and producer of the Emmy-nominated "Indiana Week in Review." Send comments on this column to ibjedit@ibj.com.
Please enable JavaScript to view this content.