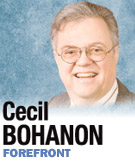 After an election, it is just good manners to congratulate the winners and offer condolences to the losers. We wish the winners well and hope they succeed in the tough business of crafting and implementing good public policy. We thank those who did not win for giving their time and energy offering an alternative.
Campaigning and governing are grueling work, and a free society is viable only if there are folks brave enough to take on the slings and arrows of both endeavors.
Indiana's Libertarians deserve special kudos even though they did not come close to winning a statewide election. In the spirit of disclosure, I was a Libertarian candidate for Congress in 1984 in the then-2nd Congressional District. I garnered a mere 634 votes, or 0.3 percent, of the total. No Indiana Libertarian candidate for federal office got more than 1.3 percent of the vote in 1984.
This year in Indiana, the Libertarian presidential candidate, Gary Johnson, got 50,000 votes, or almost 2 percent of the vote; gubernatorial candidate Rupert Boneham got over 100,000 votes, almost 4 percent; and senatorial candidate Andrew Horning got 161,412 votes, over 6 percent.
In the congressional races, every Libertarian got over 3 percent and 6th District candidate Rex Bell got 5.8 percent. Horning, Boneham and 2nd District candidate Joe Ruiz's vote totals were high enough that—had all their votes gone to the second-place candidate—the outcome would have changed.
So what explains the success of Indiana's Libertarians? I think three things are crucial. First, it is obvious to many that the two-party system is not working. Horning used this line effectively in his debates: "If you want change, I am change." Surely part of the Libertarian vote totals accrue to a protest that may or may not reflect an acceptance of Libertarian principles.
Second, however, the Libertarian Party of Indiana has had a more or less constant presence in state politics for 30 years. They are part of the landscape. They are a credible alternative to the two parties. This is the byproduct of the state party leaders' consistent message and dogged persistence. As Woody Allen allegedly said, showing up is 80 percent of the game.
But finally, the ideas of Libertarians are taking root with a small but increasing portion of the population, especially the younger population. Say what you will, but Libertarians are principled: Government is designed to prevent coercion and fraud—and little more.
Libertarians call for a transition from government-based social entitlements to privately run social welfare programs, an end to most economic regulation, and a move from a health care system where the federal government is the primary driver to a genuine free market in health care.
All of which would enable radical tax reductions. Libertarians also call for decriminalization of consensual activities by adults (think marijuana-smoking and prostitution), are civil liberties hawks and embrace an anti-war agenda. To the uninitiated, this might seem a hodgepodge of extreme positions of both Republicans and Democrats, but to those who have studied Libertarian thinking, it represents a cogent version of America's founding principles. Indeed, Jefferson warned against a large federal government and Washington cautioned against foreign entanglements.
How much of the Libertarian vote is in each bucket? I don't know. But it is interesting to note that Hoosier Eugene Debs garnered 6 percent of the popular vote in the election of 1912 as a Socialist candidate for president. Forty years later, much of the then-radical agenda of the Socialist party was the law of the land.
Ideas have consequences and consequential ideas often emerge from the so-called "fringe."•
• Bohanon is an economics professor at Ball State University. Send comments on this column to ibjedit@ibj.com.
Please enable JavaScript to view this content.