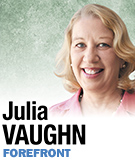 Forget red states versus blue states. The color best representative of the 2012 election is green, as in greenbacks. The election was not only the most expensive in our nation's history at $6 billion spent, but it also shattered the record by more than $700 million. More than 1,000 Super PACs were formed and they spent at least $970 million, much of it on negative television ads and direct mail.
One of the storylines to emerge after Election Day is that Super PACs did not have a major impact on this election, since many Super-PAC-backed candidates, most notably Mitt Romney, lost. This notion fails to recognize that the results of an election—the winners and losers—don't always measure the impact of money on the race. That impact will be reflected in the priorities Congress sets and which interests are invited to the legislative table.
When a person or a group makes a seven-figure contribution to a candidate, they always want something in return. But, even when they're on the losing side, big money can use the threat of future campaign spending to gain favorable consideration. Much like the old saying about not picking fights with those who buy ink by the barrel, it's politically smart to stay out of the Super PAC's doghouse, lest you face a well-financed challenger come re-election (ask Sen. Lugar about how that works).
Another problem is that we may never know exactly where much of the big money came from. Without full disclosure, it will be impossible for the press and the public to make the connection when a public official rewards a donor or hides a conflict of interest. Super PAC money darkens our democracy with a cloud that obscures intent and shades the truth.
And, while high-profile Super PACs like Karl Rove's American Crossroads had some expensive and spectacular failures, in most races the candidate with the most money or with the most money spent on their behalf won. According to Opensecrets.org, 93 percent of congressional races were won by the bigger spender. So the new Congress, just like the old one, is beholden to big money interests.
You don't have to take my word for it. Former House Speaker Newt Gingrich said after the election that Super PACs are "very negative and very destructive of our system." Gingrich summed up the 2012 presidential campaign as a "battle of the billionaires" and acknowledges his previous characterization of Citizens United as a victory for free speech was misguided.
There is a silver lining. The Super PAC money spigot opened by Citizens United has made it so obvious that our elections have become auctions that tens of thousands of Americans are fighting back. A national movement to amend the Constitution to undo Citizens United has become energized across the country and people are working at the grass-roots level to generate support. Common Cause Indiana is working with our members to encourage city councils to weigh in by passing resolutions in support of an amendment.
And while the nation might be sharply divided on some issues, recent polling indicates that Americans of all political stripes support campaign finance reform. According to a poll published after the election by Public Campaign Action Fund, 78 percent support "reasonable limits on campaign contributions and spending" and 85 percent support laws that would require more disclosure.
Three-quarters of the money Super PACs raised came from only 100 mega-rich contributors. While many of their candidates lost, their influence won't wane until we reform the system and restore meaning to the concept of one man, one vote.•
• Vaughn is policy director for Common Cause Indiana, a nonpartisan citizens lobbying organization that works for open, honest and accountable government. Send comments on this column to ibjedit@ibj.com.
Please enable JavaScript to view this content.