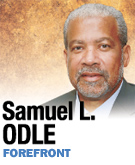 A number of high-profile deaths over the past 15 years have increased awareness of sudden cardiac death in the national sports community and public at large, but also here on home turf.
An unfortunate incident back in 1999 caused the creation of the John Stewart Foundation, a local group designed to educate and advocate in the hope that no other parent has to experience Felecia Stewart's pain.
Felecia is the mother of John Stewart, who was a promising athlete at Lawrence North High School. John had a scholarship to attend the University of Kentucky and play for famous basketball coach Tubby Smith. This dream was cut short when John died of SCD on the court at the end of his senior year.
The vast majority of young athletes that experience sudden cardiac arrest have underlying structural and functional issues with their hearts, yet most don't exhibit any issues. The child appears to develop normally and can fully participate in athletics.
Males are five times more likely to experience SCA than females. And 65 percent of all SCA deaths occur while young athletes are participating in basketball and football.
These deaths can be prevented, and we must focus more resources on prevention. Every athlete needs not just a physical but a thorough physical. Schools should encourage it and parents should insist on it.
A skilled physician can identify a number of conditions if conducting more than just the general training exam. More detailed testing can be ordered, including an EKG or an echocardiogram, which are not routine in healthy, young people. Part of preventive care also includes a rigorous review of family history.
Training is also key in better recognizing the signs and knowing how to treat an episode. The new Red Cross-recommended CPR technique is "hands-only," pushing on the chest at a rate of at least 100 beats per minute to the tune of the Bee Gees song "Staying Alive."
The Indiana High School Athletic Association and the NCAA must stop ignoring this problem and should insist that all coaches and officials be trained in CPR. We never know when they might have a chance to save a life.
Training also applies to having an automated external defibrillator available and knowing how to use it. This tool can prove invaluable to electrically restart a child's heart if he or she has cardiac arrest. Defibrillators should be standard at practices and games, just like the backup balls that are hauled out to the court or sideline.
Finally, policymakers and stakeholders should join together to insist on preventive physicals and medical exams, and to raise funds, purchase equipment, provide training and insist on policy changes.
We would be remiss to not consider best practices and consider models that could be replicated throughout the state.
One such example exists right here in Indianapolis between Heart Partners of Indiana and Indiana University Health. These organizations have teamed in an "Echoes for Athletes" program to provide students in central Indiana echocardiographs and, to date, have screened more than 2,000 young athletes.
Death almost always feels like a tragedy, and even more so when it is a young person. We can all play a role in stopping our young athletes from dying.•
• Odle is the former chief operating officer of Indiana University Health and CEO of Methodist and University hospitals. Send comments to ibjedit@ibj.com.
Please enable JavaScript to view this content.