A top BrightPoint Inc. executive expects little employment change for the distribution and logistics company's 1,100-person central Indiana work force, despite the potential for job cuts and facility closings across the country.

California information-technology distributor Ingram Micro, which completed the $840 million acquisition of BrightPoint on Oct. 15, intends to implement more than $55 million in "cost synergies and efficiencies" by 2014 as part of the deal announced in July.

Howell
Ingram has remained mum on layoffs—acknowledging only that they're one of many possibilities.

Mark Howell, who was president of BrightPoint North America before taking a similar post with Ingram after the merger, sees BrightPoint's services and customers as "complementary."

Howell said the two companies have few overlapping customers and BrightPoint has a larger emphasis on logistics—providing services that add value beyond warehousing. He expects to keep BrightPoint's central Indiana employees in place to handle orders from Ingram's customers.

"Certain things will happen as part of a merger," Howell said. "An example of that, we're no longer a public company and 60 days ago we were. There may be resources that were focused on those things that no longer exist. But operationally we still need to conserve all of our customers and vendors that we had beforehand."

BrightPoint's sale, which eliminates one of Indiana's six Fortune 500 companies, means the 4,000-employee company no longer has to pay for audits, communication to investors, filing fees or any other expenses that come with publicly traded status. That should immediately save "a few million dollars" annually, said Damon Wright, Ingram's executive director of investor relations.

Ingram has identified six BrightPoint jobs the company is cutting because they were redundant with Ingram posts, Howell said.

As Ingram ekes out the first savings from the deal, it's beginning to assess bigger ways the two global companies can consolidate operations and boost sales.

"We're keeping people up to date as much in real time as possible as the decision-making process goes along," Wright said.

BrightPoint's headquarters in Park 100 off of West 79th Street—now the home office for Ingram's North American mobility division—will answer to regional and global headquarters in Santa Ana, Calif.

BrightPoint has three distribution facilities in Plainfield, where about 1,000 people work. Ingram's only Midwest shipping center is 200 miles away in the Chicago suburb of Carol Stream.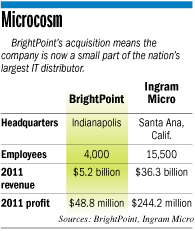 BrightPoint, which began in 1989 as a cell phone distributor and has branched into other handheld devices, gives Ingram better access to the mobile market and to logistics, which includes such services as phone programming.

Ingram distributes a broad range of IT products, but is a newcomer to phones. The emergence of cloud computing and the increasing demand for mobile devices has pressed Ingram into building its presence in the handheld niche.

BrightPoint's customers include cell phone carriers such as T-Mobile and manufacturers such as Samsung and Nokia. In the first half of 2012, the company posted revenue of $2.6 billion, up from $2.3 billion a year earlier.

Although distribution represented the overwhelming majority of that revenue, logistics is vastly more profitable. In the first half of the year, distribution's profit margin was about 3 percent, which netted $74 million. Logistics, on the other hand, had a 35-percent profit margin, adding $91 million to the bottom line.

Nevertheless, Howell said BrightPoint likely will see distribution grow as its employees handle more orders from Ingram's customers.

Ingram's executives have begun visiting the Indianapolis operations to assess possible changes and introduce BrightPoint employees to a new corporate philosophy.

"I think every week, representatives of the regional executive team and the worldwide team have been on site," Howell said. "The day that this transaction closed, [CEO] Alain Monie was actually in Indianapolis to speak to all the employees."

Executives have been trying to assuage workers' concerns about the buyout.

"There was a lot of anxiety from the day the transaction was announced until the day the transaction closed, and that was just built on human nature," Howell said.

Plainfield government officials are wondering what will come of the deal.

BrightPoint's "been good to the town under the former regime," Plainfield Town Manager Rich Carlucci said. "We have a great location for them. In terms of the future, I've not been contacted by anyone from BrightPoint."•