Timmy Global Health needed less than $4 million last year to address almost 10,000 patients' medical needs in some of the world's more impoverished places.
And the Indianapolis not-for-profit's 10 full-time employees pulled in most of that in the form of pills, gauze and other non-cash donations.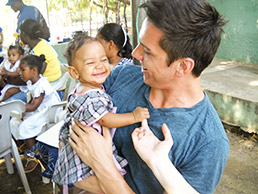 IUPUI student Brandon Kellinghaus was one of more than 450 Timmy Global Health volunteers in 2012. Kellinghaus worked in the Dominican Republic. (Photo courtesy of Timmy Global Health)
The organization's efforts to improve health in Latin America, the Caribbean and Africa while exposing hundreds of students to the realities of the medical industry—all on a shoestring budget—have earned it an appearance on network TV and a shot at a $1 million unrestricted grant.
Even if Timmy Global doesn't receive a dollar, its executive director expects major benefits from the Dec. 8 appearance on NBC's "American Giving Awards."
About 1.5 million viewers age 18 to 49 tuned into the awards presentation's debut last year, according to The Nielsen Co.
The awards stage will provide a nationwide spotlight for an organization that collected less than $500,000 in cash donations last year.
"The type of visibility you could get out of this, you could never pay for," said Matt MacGregor, Timmy Global's executive director.
The Indianapolis health care outreach agency is one of 25 nominees for the awards, and the only one based in this state.
Winning depends on the number of votes the organizations garner through voting on Facebook (http://on.fb.me/PxgFDc).
The awards have five categories: Educators and Mentors, Heroes and Leaders, Champions of Health and Wellness, Community Builders, and Youth Developers.
Each category has five not-for-profits.
If Timmy Global wins its category, Champions of Health and Wellness, the group then will compete with the four other category winners.

Dietzen
The top vote recipient among category winners receives $1 million, and prizes decrease each step, down to $125,000 for No. 5.
The nomination process began for Timmy Global in September when it received $20,000 from JPMorgan Chase & Co.
The not-for-profit was one of about 200 organizations that split $5 million from the Chase Community Giving grant program.
The bank, which is funding the American Giving Awards grants, selected the 25 nominees from among the 500 Chase Community Giving recipients since the program began in 2009.
"We try and choose organizations that are from different parts of the country that serve a diverse group of causes," JPMorgan Chase spokesman Erich Timmerman said. "We also try to choose organizations that we feel there's some enthusiasm around them, the community's excited about them."
Making an impact
Timmy Global's mission is to provide immediate care to patients in poverty-stricken countries. The organization also improves medical facilities and the infrastructures to sustain effective health care.
"We are by no means perfect, but we put a huge emphasis on making sure our patients are getting what they need to survive," MacGregor said.
"We don't set up clinics ourselves. We support existing partners. We're essentially becoming the community outreach department of local organizations."
Dr. Chuck Dietzen, a pediatric physical medicine and rehabilitation specialist, launched Timmy Global Health in 1997 after a stint helping Mother Teresa care for orphans in Calcutta, India.
In its first year, he stashed his supplies in a closet at Lifelines Children's Hospital in Indianapolis, where he was medical director at the time, and took half a dozen colleagues on three or four trips.
Today, 20 to 30 volunteers travel overseas for each trip, which typically lasts a week or two.
In the fiscal year that ended June 30, Timmy Global sent 20 teams with a total of 458 volunteers to Ecuador, Guatemala, the Dominican Republic and Nigeria. The organization also works with medical clinics in the Indianapolis area.
Students, most of them studying medicine in Indiana, make up two-thirds of the volunteers. The remainder are medical professionals.
Dietzen, who practices at IU Health's Riley Hospital for Children and is chief medical officer at electronic medical records service provider iSALUS Healthcare, said student involvement initially was non-existent but has grown over the years.
He decided to bring in students after he thought back on his time in medical school and realized that it wasn't until he had real-world experience that he knew he wanted to stick with the profession. Timmy Global now has volunteer chapters on 34 university campuses and 10 high schools.
"These students need some hands-on experience," he said. "I don't want to kill two birds with one stone. I want to kill five or six or seven."
He said students who volunteer with Timmy Global also are learning about philanthropy and community involvement. Students going on trips are charged with raising money for the organization on top of funding their own travel.
"By simply becoming a health care provider, you become a community leader," he said, mentioning the times he's been called upon to speak publicly or work on community projects. "So you've got to have these tools in your toolbox."
Bolstering scholarships

MacGregor
MacGregor said that if Timmy Global wins an American Giving Awards grant, it will use the money to boost a scholarship program that provides about $25,000 a year to student volunteers.
The students use the aid to cover their air fare and other travel costs.
Because fundraising never has been a major area of focus for Timmy Global, it has relied on volunteers to pay their own way.
"Gone are the days that all nonprofits are going to survive off just cash donations," MacGregor said.
Timmy Global reported $3.9 million in 2012 revenue. But $2.8 million, or more than 70 percent, was non-cash donations, mostly medicine and medical supplies that are shipped to the organization's work sites.
More than half of the remaining revenue, about $600,000, came from service-trip fees Timmy Global tacks on.
Trips usually cost volunteers $1,300 to $1,800.
While many medical professionals can cover that bill fairly easily, most students can't. A larger scholarship program would lighten the burden for the 400 students who expect to travel to foreign countries this fiscal year, organization officials say.
Rounding up votes
Timmy Global's employees have been working virtually around the clock to solicit votes for the American Giving Awards, MacGregor said.
The strategy makes sense for Timmy Global, since it has volunteers nationwide and its mission addresses a worldwide need, said Bryan Orander, a not-for-profit consultant who runs Charitable Advisors in Fishers.
But he said most local not-for-profits would be ill-advised to compete in such a contest, since they tend to be locally focused and not broadly known. A community center, for instance, focuses on a small geographic area, sometimes a single neighborhood.
Social-network-based voting also presents complications if coordinators are not closely monitoring for ballot stuffing and other underhanded tactics.
Still, Timmy Global has much it can gain from the American Giving Awards, Orander said.
"It gives them an occasion or an opportunity to push their story with a little bit of energy behind it," he said.•
Please enable JavaScript to view this content.