The Indiana Historical Society has raised $19.5 million to support the Indiana Experience, its series of interactive history lessons intended to draw more visitors to the local not-for-profit's downtown facility.
Officials were set to announce the completion of the five-year campaign Monday evening at the organization's annual Founders Day Dinner.
The final tally exceeded the fundraising goal by $300,000, but only after the target was reduced when the economy tanked following the 2007 campaign kickoff.
Organizers considered shelving the initiative, but ultimately settled for trimming $4.6 million from the initial project budget, CEO John Herbst said.
"It was a big discussion, but everyone felt we had to get this done," he said.
Officials scrapped plans for new special-event space and a revamped entryway on the north side of the building—renamed the Eugene and Marilyn Glick Indiana History Center in honor of the local philanthropists' $8 million gift—and focused on paying for the cutting-edge technology that aims to bring history to life.
Visitors now can explore a trio of rotating "You are There" exhibits, where costumed interpreters interact with guests in three-dimensional re-creations of historic photos, or do some self-guided time travel through the state at one of the "Destination Indiana" computer stations.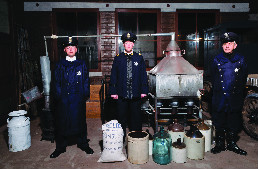 Costumed interpreters bring historic photos to life at the Indiana Experience. (Photo courtesy of Indiana Historical Society)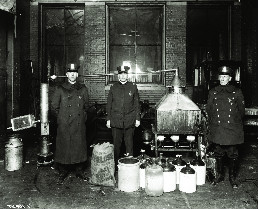 This photo, taken at Indianapolis police headquarters on Dec. 9, 1920, is the basis for the Busted! Prohibition Enforced exhibit. (Photo courtesy of Bass Photo Collection, Indiana Historical Society)
IHS has added 40 part-time employees to its museum theater staff, including a rotating cast that pays homage to Hoosier musical legend Cole Porter in its version of a 1940s-era nightclub. It now has 70 full-time staff members and 46 part-timers.
The Indiana Experience attracted about 30,400 visitors when it debuted in 2010, and officials expect attendance for the exhibits and related programming to reach 50,000 this year. Sales at the Basile History Market gift shop and Stardust Terrace Café also have seen double-digit percentage increases, IHS says.
Improving the History Center's appeal had another welcome side effect, too: More than 400 campaign gifts came from first-time donors to the organization.
"The community responded to our appeal to invest in the Historical Society," Herbst said. "That's not something that was part of our culture years ago."
The "You are There" areas are particularly engaging, offering guests the chance to literally walk into a historic photo. In "1955: Ending Polio," for example, visitors get a behind-the-scenes tour of an Eli Lilly and Co. packing line where workers are putting together rush shipments of the drugmaker's life-saving polio vaccine. In "1920: Busted! Prohibition Enforced," they enter Indianapolis police headquarters after a big booze bust. In "1939: Healing Bodies, Changing Minds," which opened Nov. 13, they meet African-American physician Harvey Middleton at his new office on Boulevard Place.
The interactive exhibits make history come alive, said IHS board Chairman Jerry Semler, and allow the organization to establish itself as more than a resource for researchers and scholars.
"We're helping people see the history of their community," he said.
IHS has a number of other "You are There" areas in various stages of development, Herbst said, and is continuing to raise money to keep the exhibits—and the technology that powers them—from becoming stale. He expects each exhibit to remain in place for about a year.
Next up (next year): a visit to an Indianapolis relief station during a massive flood in 1913.
The organization rolled $1 million in ongoing Indiana Experience expenses into its $7.8 million operating budget for 2013, which is funded through endowment income, gifts and "earned" revenue like memberships and ticket sales.
Once just a fraction of the total, earned income now represents about 39 percent of IHS' revenue, spokeswoman Amy Lamb said.
Founded in 1830, the Indiana Historical Society moved into its current location on Central Canal in 1999. The facility houses a state-of-the-art, climate-controlled research library and archives, in addition to a theater, gallery and event space.
IHS also provides support to local museums and historical groups, publishes books and periodicals and sponsors teacher workshops.
Herbst, who came to the organization in 2006 after stints at the helm of Conner Prairie and the Indiana State Museum, is working on a six-year strategic plan he hopes the board will approve by mid-2013.
From there, "we'll see what else we can accomplish," he said.
Please enable JavaScript to view this content.