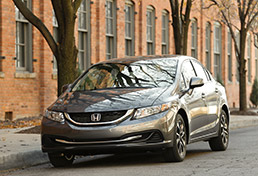 Honda will boost production of its Civic 25 percent at the Greensburg plant, to 250,000 units a year.(AP photo)
Just one year after redesigning the Civic, Honda has tried again with the latest generation of the top-selling, Indiana-made compact car.
Consumer Reports, joined by reviewers throughout the United States, led a charge on the 2012 Civic when it blasted a car that has historically been the subject of critics' accolades for sharp designs and smooth driving.
The auto publication said last year's model, which was a redesign from the previous generation, had poor handling and a "cheap" interior.
Even though sales held their ground, industry experts told IBJ in October that another year or two with lackluster looks and performance could mean bad fortunes for the vehicle that supports Honda Manufacturing of Indiana's 2,000-employee factory in Greensburg.
In-depth reviews haven't trickled in yet. But in an initial analysis after the 2013 model's debut Nov. 28, Motor Trend, one of the harshest critics of last year's Civic, seemed more optimistic.
"Based off our initial impressions, it appears Honda has worked hard to address the problems we called out with the 2012 Civic in our eight-car comparison last year," the automotive publication wrote.
Honda will need the Civic, which is on track to surpass 300,000 sales this year, to stay strong to keep its Greensburg plant viable. The only other car the factory makes is the Civic's sister, the Acura ILX.
The biggest concern critics had for the vehicle wasn't so much that the 2012 model was bad—it was just mediocre after years of excellence in a market in which the competition is stiffening.
Despite the poor reviews, Honda doubled-down on its 2013 model.
In January, the company will boost production 25 percent, to 250,000 units a year, in Greensburg and begin making the Civic Hybrid as part of a $40 million investment.
Please enable JavaScript to view this content.