After seven years as Central Indiana Corporate Partnership CEO, Indianapolis native Mark Miles will leave the organization Dec. 17 to become CEO of Hulman & Co.
While Miles will focus on all of Hulman & Co.'s ventures—including real estate holdings and Clabber Girl—his biggest challenge will be turning around the money-losing IndyCar Series and bolstering one of the region's most famous landmarks—the Indianapolis Motor Speedway.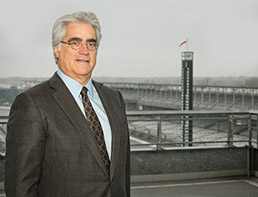 Mark Miles: "The brands have great value, and I don't think we've begun to achieve what can be achieved, particularly with IndyCar." (IBJ photo/Eric Learned)
During a 60-minute interview with IBJ, Miles said he is considering a range of changes, including adding lights to the IMS, making the Brickyard 400 NASCAR race a night event, bolstering the IndyCar Series schedule, and creating a post-season structure like other sports and race series have.
Miles said he thinks the open-wheel series that has lost money since it was launched in 1996 is on the threshold of breaking even. But he said that's just the starting point for what he wants to accomplish.
Miles, who will work out of an office at the IMS, said his experience as CEO of CICP, CEO of the Association of Tennis Professionals Tour, chairman of the 2012 Super Bowl Host Committee, and president of the 1987 Pan Am Games Host Committee, along with his local connections, will help him accelerate growth of all Hulman & Co. ventures.
IBJ: Did someone on the board first approach you about becoming CEO of Hulman & Co. or did you approach the board?
MILES: I was asked to go to a lunch where a couple of representatives of the board laid the idea out to me suggesting there was an emerging view that we needed to add bench strength at the firm and asking whether I was interested in coming in at that capacity.
IBJ: Why did you want this position?
MILES: I think the family and the institution of the Indianapolis Motor Speedway is so vitally important to our city and our state. That was the first thought. I have come to the conclusion that the Indianapolis Motor Speedway and the Indianapolis 500 [are] so inextricably linked to the IndyCar Series that you feel a responsibility to make them as successful as they can be. I also felt like the collection of experiences in my career was relevant and gave me some perspective of the businesses they're in.
IBJ: You're 59 years old. How long do you foresee staying in this position?
MILES: I can't foresee not working. I hope to be very active as long as I can contribute. To make a dent in something like this, I think three to five years is the absolute minimum.
IBJ: Do you see this as a turnaround job?
MILES: The brands have great value and I don't think we've begun to achieve what can be achieved, particularly with IndyCar. I also think we can do more with IMS to reach another level.
IBJ: What are your most immediate priorities in this new job?
MILES: The immediate priority is to be able to identify and articulate and get people on the same page around a strategy for the future growth of the IndyCar Series.
IBJ: Identify some of the growth opportunities for the series and IMS.
MILES: We have to grow the number of fans and grow the level of engagement of the various types of fan—from the casual fan to the hard-core fan. We have to get people past looking at simply the internal history of the organization and on to paying attention to our cars and our drivers and our events.
In conjunction with that, you look at improving television ratings, activity in social media, investment at all levels, from teams to cars to tracks to sponsorship and promotion. It's not rocket science to understand moving the needle for a league and that's where I think some of my tennis background is relevant.
IBJ: What's the key to enhancing fan engagement, attendance and TV ratings?
MILES: There isn't any one key. You have to do everything well. You have to be competitive with other sports and entertainment options. We have to look at everything from the structure of our calendar—Does it have an impactful beginning and end?—[to] the length of our season. Are we in the best possible cities? Is there an optimal culmination to the series at the end of the year?
I'm not trying to answer these questions. I'm trying to posit them for you. The structure of the series from an event point of view is an example of one driver, but it's just one. And there are lots of others.
IBJ: Do you have any thoughts on the staff of the IMS and IndyCar Series?
MILES: I haven't even met them all. I don't go into this position with preconceived notions. But one of the first things I'll want to do is know all our people and understand our businesses better and understand our stakeholders' views and strategies. Then we'll be in position to get the right people in the right seats.
IBJ: What are your thoughts on hiring a new IndyCar Series CEO as opposed to retaining Speedway CEO Jeff Belskus in that role?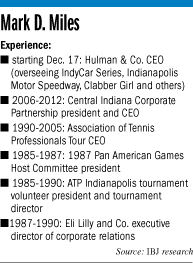 MILES: It's been identified as an interim responsibility and that's to make the point that, while he's in charge right now, it's possible and maybe likely that eventually there will be another approach to the structure or to the staffing.
IBJ: Given his experience in racing, what role do you see for Tony George in your efforts to grow the Speedway and IndyCar Series?
MILES: Right now, Tony's an owner of the company and obviously a guy with a lifetime of experience. He's certainly somebody we'll talk to about his perspective on the business. It's not for me to decide if at some point in time Tony comes back on the board, but I don't expect that he'll be involved in a management position. It's more likely he might take a seat back as a board member, but I haven't heard Tony say he wants to take a management position.
IBJ: Have you talked to Tony since you have taken the position?
MILES: I have.
IBJ: Positive conversation?
MILES: He seems supportive. I think Tony and all the members of the family essentially share a view that they all want this to be successful. I've known Tony for several years. He was on the board of the Super Bowl Host Committee. So I've felt a positive response to the appointment from him.
IBJ: Do you expect there to be any changes to the Indianapolis 500 or IndyCar season during the 2013 season?
MILES: I really don't know the answer to that yet. I think there could be some tweaking of the calendar.
IBJ: How would you characterize the financial condition of the Indianapolis Motor Speedway and IndyCar Series?
MILES: We're not in a triage situation. We have a solid foundation, but there's room for growth.
IBJ: Is the IndyCar Series close to being self-supporting?
MILES: We have some work to do, but I see how we can get there in short order.
IBJ: Why are you and the other board members so adamant about the IndyCar Series not being sold?
MILES: There's an inextricable connection between the Indianapolis 500 and the IndyCar Series, and it's not one-sided. It makes sense to figure out how to optimize both.
IBJ: What can be done to make the series profitable?
MILES: It's going to be sustainable financially with another race, perhaps, or another sponsor or two. That's the base line. Our objective is to grow it in a very significant way. That's going to take a little bit of time.
IBJ: You had mentioned some growth opportunities for the IMS as well?
Miles: All the events there are solid and profitable, but we'd like to see significant growth. Those of us who have grown up in Indianapolis have an understanding of what events out there can be. And the events out there have not completely met their potential.
IBJ: How do you do more?
MILES: If you think of any major successful professional event or high-level collegiate event, the facility has a lot to do with the vitality of the event aesthetically and for the fan experience and economically. So we'll have to think about investments out there. Then there's the marketing. And people have thought about specifics like lights. There's a long list of things we'll consider.
IBJ: Do you favor installing lights at the Speedway?
MILES: I think we have to look at that. If you are talking about the Brickyard [400] and fans believe it's too hot, that would provide some relief. There's some evidence we're getting that a night race distinguishes itself from day races … that can add to audience value on television. It's likely in my view that we'll conclude that, if we can figure out a way to add lights out there, it could add real value.
IBJ: Do you favor bringing in more events to the Indianapolis Motor Speedway?
MILES: Whether it's about the IndyCar Series or [IMS], I don't start from the point of view that more is better. It's all about what the opportunity is and what it adds.
IBJ: Is it easier for you to look at this in a calculated business way and break from tradition than it is for the Hulman-George family?
MILES: I hope so. Contemplating and managing change requires a real understanding of history. The trick is to have a fresh set of eyes come to this and not let the past, in fact not [being] interested in continually digging up the past, but looking forward and yet doing that in a way that appreciates the culture.
IBJ: What are the main problems with the IndyCar Series' lagging TV rating and attendance?
MILES: In terms of attendance, you have to be in the right places at the right time. They have to be well-promoted events, they need to be helped by great communication and promotion of the series itself more broadly from week to week.
In terms of television, there are a lot of factors. Fans have to know what to expect and where to find it. There has to be some level of consistency from year to year. Appointment viewing is a key. We also have to look at … are there other ways to add innovation that would capture the attention of fans?
IBJ: With respect to Hulman & Co.'s other holdings, are there any particular issues you'll be looking at?
MILES: There's a portfolio of real estate holdings. I want to understand those assets and the thinking about optimizing the value of those assets. There's this fascinating company … called Clabber Girl. It's a company that has an important market position and an important historical and current relevance in Terre Haute. So it's something we want to support and help think through ongoing growth strategies.
IBJ: What are the biggest challenges of passing this business from one generation to the next?
MILES: In my mind, the first point is that it has to be thoughtfully and carefully done. In the end, if a venerable firm is going to succeed over time from generation to generation, it has to be a meritocracy. The idea is, you have to have the absolute best people available running the company and in all the key seats.•
 
Please enable JavaScript to view this content.