Oil investors are drilling for dollars in "hot plays" like the Bakken shale of North Dakota and the Permian Basin, in Texas.
But an Indianapolis investment advisory oil firm has been looking for blowouts in its own back yard. Midwest Energy Partners is preparing for its seventh—and largest—round of funding to pay for oil drilling in southwestern Indiana and southeastern Illinois.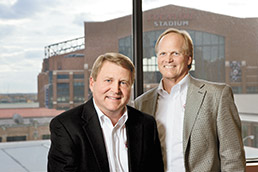 Former CountryMark executive Bill Herrick and ex-IPL treasurer Steven Meyer lead Midwest Energy Partners.(IBJ file photo)
"A lot of people don't even realize there's oil here in the state," said William D. Herrick, founder and CEO of 3-year-old Midwest.
Later this month, Midwest Energy plans to raise up to $15 million from wealthy individuals and corporate investors to drill dozens of new wells.
The price of entry for potential investors has been steep: a minimum of $250,000. The new round will carry a lower minimum investment of $100,000.
If this month's offering goes as expected, it would bring to more than $30 million the amount raised by the firm since 2009 for oil drilling/production.
Previous investments bought working interests in nearly 100 wells in the so-called Illinois Basin, which underlies parts of Indiana, Illinois and Kentucky. It also funded a couple of wells in Kansas.
A sixth round, this summer, raised $4.9 million, according to a filing the company made with the Securities and Exchange Commission.
As of Sept. 1, Midwest had 88 operating wells producing 455 barrels per day.
Herrick left oil refiner CountryMark (now also an oil producer) three years ago, as its director of business development.
"Sourcing capital has been a longtime challenge for many operators in the Illinois Basin," Herrick said.
So he formed Midwest, which has raised money for operators he'd worked with previously: Lawrenceville, Ill.-based Pioneer Oil Co. and Evansville-based Core Minerals Operating Co.
In 2010, Core helped prove the viability of the so-called Hulman Reef, near Terre Haute, which is thought to be the most significant oil discovery in Indiana in decades. Midwest Energy doesn't have a stake in that deal, however.
Mini renaissance
Indiana production in the Illinois Basin peaked at 12.6 million annual barrels in the early 1950s, according to the Indiana Geological Survey.
By the late 1960s, many of the big operators had pulled out to search for oil in more productive fields.
That left families to tend to declining wells on their property and small operators that couldn't afford to do much in the way of drilling except during periods of spiking oil prices.
Spike they have in recent years. From an average low of $39 a barrel in February 2009, oil last February hit a monthly average of $106. Lately, it hovers around $88, making even the Illinois Basin seem attractive to some operators.
"You have to think that the high price for crude oil is a factor" for renewed drilling activity, said Herschel McDivitt, chief of the Indiana Department of Natural Resources' Oil and Gas Division.
"Clearly, yes, the conditions have been favorable for encouraging operators to engage in the drilling of new wells or recompletion or reconditioning of existing wells."
The DNR recorded an 8.3-percent increase in Indiana oil production, to just under 2 million barrels, in 2011. That was the highest output since 2.02 million barrels were extracted in 2001.
This year could surpass 2001. Production was up 14 percent, to 1.24 million barrels, in the first six months of 2012, according to reports operators filed with the state. The Hulman find likely explains much of that, though state officials said they're not certain because operators don't always report numbers.
Also driving prospects for making money from the Illinois Basin are technologies such as horizontal drilling that can be deployed in existing wells drilled during the last century.
Typically, oil is found between 1,000 feet and 3,000 feet down. Illinois Basin crude is similar in quality to that found in the Middle East. Known as "light sweet," it has relatively low amounts of sulfur that can complicate refining, according to Midwest Energy.
Drilling horizontally—sometimes up to a mile—can penetrate untapped pockets of crude.
"Most geologists will tell you 65 to 70 percent of the oil is still there" in the Illinois Basin, Herrick said.
Horizontal drilling can cost $900,000, versus $300,000 for a vertical well. But so far, the extra expense has been worth it. Midwest Energy said its partners have had a 93-percent success rate on such wells.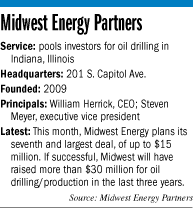 A relatively small amount of the drilling consists of wildcat wells—essentially holes in a new area. Midwest's success rate on wildcats is about 40 percent.
"We limit pure wildcat wells to 10 percent of our drilling in each package. While the risks of a dry hole are significantly higher, the chances for finding a highly productive well also increase," Herrick said.
He seeks to minimize the risk for investors by raising enough money in a round to drill multiple wells at varying locations and depths.
Some operators are drilling deeper in the Illinois Basin in hopes of finding oil, McDivitt said. One place is in Gibson County, where the operator also injects large amounts of liquid to wash out the previously elusive crude.
"Some companies are having some pretty significant success," he said.
'High-touch' business
Oil typically is not found in pools, as is the common belief. Steven Meyer, executive vice president of Midwest Energy, holds up a piece of bread over lunch and points to its pores as the kinds of pockets where crude hides.
Meyer, former treasurer of Indianapolis Power & Light, is getting accustomed to teaching local investors about the little-known world of oil production. Unlike an investment in an oil partnership drilling out West, his investors can actually see their money at work: He takes them on three-hour drives where they can talk to the roughnecks on the rig.
"It's a high-touch business," Meyer said.
Oil prices aren't the only factor that drives the business. It's also getting a boost from the lack of other attractive investment options.
Of course, Herrick and Meyer are careful to point out to potential investors that there are risks in oil. The price is driven by a number of factors worldwide, from wars in the Middle East to China's rising demand to the price of the dollar.
And the Obama administration, which blocked construction of the Keystone Pipeline that could have put downward pressure on oil prices, seems content to let oil remain high as a way to buttress its energy-efficiency and renewable-energy agenda.
Then again, the economy could tank, sending oil prices plunging as in late 2008 and early 2009.
"We think oil is going to stay in the $80 to $100 range," Herrick said.
That could be good for investors. Herrick and Meyer have expectations for investor returns of 25 percent—or better.
The return on investment for the first five transactions ranges from 11 percent to as high as 64 percent, according to an investor presentation package. The average annual return as of last September was just over 26 percent, according to Midwest.
Typically, the well producers that Midwest partners with contribute at least one-third the cost of a well.
Midwest Energy isn't the only big backer of oil drilling in the basin in recent years.
Indianapolis-based CountryMark last month said it was acquiring eastern U.S. wells of big producer Continental Resources for $125 million. Continental generates more than 1,100 barrels a day from wells in the Illinois Basin.
CountryMark's refinery could be working harder soon, as producers find more oil during favorable market conditions.
Such is the favorability of the oil market right now that even land owned by Indiana State University in Terre Haute is being revisited for its oil potential. ISU students this fall have witnessed odd-looking trucks pounding the earth to create seismic waves to pinpoint oil not recovered during previous drilling in Terre Haute that dates to the late-1880s.
In February, ISU's board approved an oil and gas lease with Pioneer Oil.
The volumes of oil flowing out to the old Illinois Basin aren't enough to entice the big producers to come back.
"It just doesn't move the needle for them," Meyer said.
That's just fine for niche players like Midwest Energy.•
Please enable JavaScript to view this content.