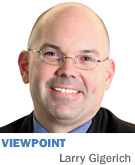 As a father of four (three of whom are about to become teenagers—yes, triplets), my wife and I are constantly talking to them regarding the importance of being a leader and making good choices. The times we face in our country and world require real leadership and it is important to develop our children into strong leaders.
During the past few months, I have had opportunity to chat with people from Canada and Puerto Rico and hear of their impressions of where our country is today. This is not a Democratic or Republican column, but rather a commentary on the state of America and its future.
The colleague from Canada observed that their country had its "Uh, oh" moment in the mid-1990s. This is when they realized the entitlements in their country were headed down a dangerous path and, if they were not dealt with, the future of their country was at risk. That is when Canada decided to reform entitlement and other government programs.
He went on to say he could not understand why a country with a historical reputation for strong leadership keeps "kicking the can down the road" on spending issues. He said it will only become more difficult in the future, if these issues are not dealt with soon.
Finally, I chatted with a few people from Puerto Rico. Their perspective is somewhat unique as they are a part of the United States as a commonwealth, but also exercise some independent governance and possess cultural differences.
Early in our conversation, one of the gentlemen I was talking with said, "We Puerto Ricans want a hand up, not a handout," while many people in the United States now seem to want a handout.
He asked why people in a country founded on independence and hard work now seemed to want government to take care of them. He noted that he recognizes the need for the government to assist people in different circumstances until they get back on their feet, but the assistance cannot be in place so long that they are not motivated to be independent.
As the grandson of an immigrant from Albania who came to this country as a 17-year-old, not knowing our language, having a few dollars in his pocket, and sailing on a ship for three weeks to arrive in America, I am probably more sensitive to the idea of hard work, self-reliance and family. I cannot begin to appreciate everything he went through to ultimately own his own business and have a good life.
These are the things we try to instill in our children every day. Sometimes, it is through our discussions, while other times, it is by letting our actions show the way.
Clearly, our children will not retain everything they hear from us and see us doing, but I hope they will take note and use these lessons to become leaders.
While I have real concerns regarding the leadership in our country and world, I still believe in America and its people. We have serious and urgent challenges ahead of us and we need to deal with them now, while we still have a chance to do so. It is well past time for bipartisan leadership to emerge. Let's get to work.•
__________
Gigerich is managing director of Ginovus, an Indianapolis-based provider of national site selection, public-policy development, community comparative analysis and economic development incentive procurement and management. Send comments on this column to ibjedit@ibj.com.
Please enable JavaScript to view this content.