Just six months ago, the headquarters of tax software firm AppealTrack was, for all practical purposes, any coffee shop where founder Doug Collins could find a decent Wi-Fi signal.

Collins
But recently, the Indianapolis firm moved "uptown"—into a travel trailer paneled to resemble a rustic cabin, rolled inside the Developer Town techie warehouse in Broad Ripple. The cabin, with an attic sleeping loft, was bought by one of Collins' investors at a charity auction.

"This is our world headquarters," Collins tells a visitor during a tour of the new digs, which include a fax machine perched atop the trailer's non-functioning toilet. All right, forget the world headquarters—it's the product and the client base that are noteworthy.

In just the last eight weeks, little AppealTrack landed six big clients for its tax appeal software. They include giant financial advisory firm Grant Thornton, in Chicago; the Los Angeles office of national CPA firm Moss Adams LLP; and prominent Indianapolis law firm Ice Miller LLP.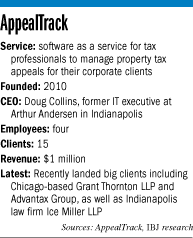 Another major client won this year, Chicago-based tax firm Advantax Group, says on its website of AppealTrack: "We believe it will become the industry standard software for tracking appeals."

Not bad for a 2-year-old firm that has either four or six employees, depending on whether you count the two code writers hired on contract.

The number of clients—15—has doubled in 2012, mostly over the last couple of months.

"We tripled revenue this year," said Collins, who added that the number is still less than $1 million.

Just how the former manager of IT services at Arthur Andersen's Indianapolis office was able to make gains so quickly in the well-established tax field comes down to—like the trailer—simplicity.

Any number of major software firms offer suites of complicated products to help tax professionals.

It turned out that none of the existing offerings was straightforward and simple enough for accountants and attorneys who have to track sometimes thousands of appeals and the status of those filings for clients such as shopping center owners.

"Doug picked a clear niche market. He did an exemplary job," said Josh Colter, a former whiz kid of Indianapolis e-mail marketing giant ExactTarget, who was hired by Collins earlier this year.

Colter
As evidence of that, Colter added, "We continue to get new referrals from existing clients."

Collins got the idea that would become AppealTrack after his friend, Henry Hamilton, of Zionsville-based Progressive Property Tax Solutions, asked him to find software to manage property tax appeals for his clients.

In recent years, many commercial property owners have appealed taxes on their properties, many of which fell in value during the Great Recession. But the process can be daunting even for tax professionals, especially those trying to juggle hundreds or thousands of appeals a year.

Collins couldn't find any appeals-specific software, let alone that tailored to Indiana's system. While working as a pastor of administration for an Indianapolis church, Collins designed his own software that reduced the time to prepare an appeal from two hours to less than 15 minutes. He continues to refine it.

Advantax founder and CEO David LeVan said his firm can track thousands of parcels in the software. It allows his tax experts to track essential information and assign tasks for various steps in the appeals process.

Landing the Grant Thornton account proved to be a turning point of sorts, to the extent that the firm was a giant in the industry and had sought bids from more-established software firms.

"We had this inferiority complex and thought, 'We're not going to get this contract,'" Collins recalled.

Colter compares such validation to when ExactTarget landed national giants such as Papa John's and Home Depot.

AppealTrack will continue to cultivate clients in major markets, such as law firms in Chicago. There's also the potential for integrating the product into other software suites.

And some clients have pushed for additional tools, which Collins has resisted out of concern the product will become as clunky as some competitors'.

"I think Josh and I being [tax professional] industry outsiders is a huge benefit," Collins said. "Philosophically, we're running on a different track than [the competition]. They're trying to be all things to all people and you end up not doing anything well."

Long-term demand for the product is likely good. Some revenue-challenged municipalities have years of appeals on backlog, making the need for property owners to track status of appeals even more important.

As for county assessors who might be sore about AppealTrack's complicity in tax appeals, Collins pointed out that his world headquarters is on wheels—and exempt from property tax.

"We got one up on the assessor because this is considered personal property, not real property."•