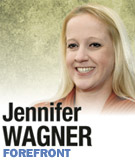 As a public relations consultant who works with several political clients, I write a lot of words.
Here are six words I never imagined stringing together: I'm going to miss Mitch Daniels.
I'm not going to miss Daniels' desire to privatize everything, including critical services and major pieces of our infrastructure. I'm not going to miss his attitude toward state workers, teachers and other public servants.
I'm going to miss the fact that I never had to wonder where he stood on anything.
In case you missed it, a campaign to replace Daniels took place over the past 18 months.
Unfortunately for voters, a U.S. Senate race that wound up costing $50 million largely obscured that contest, and it created a vacuum that all but obliterated everything else on the ballot.
During the gubernatorial campaign, we learned little about what Republican Mike Pence plans for Indiana's future. He offered many platitudes—cut taxes, improve vocational education, build stronger families, create a state that works—and ran a lot of feel-good ads, but there was not much meat on those bones, so to speak.
Since his election, Pence has been similarly guarded about his priorities, sometimes even avoiding questions about what he'll do with his remaining time as a congressman.
I'm not knocking a campaign strategy that led to victory on Election Day, and this vague approach might change once Pence is sworn in. Right now, though, I want to know what happens when the General Assembly gavels in next month and what specific policies Pence intends to push during his term.
To my earlier point, this was never a concern with Daniels in the Governor's Office.
If he didn't like your opinion or idea, he'd let you know, often colorfully. He came into office with a clear roadmap he'd drawn, and whether you agreed or disagreed with the outcomes, there's no question he forced big changes.
It's often said that Daniels is always the smartest person in the room. His trouble, which affected him within his own party as well as with Democrats, was that he sometimes had trouble hiding it.
Faced with criticism from fellow Republicans over his self-avowed "truce" on social issues, Daniels said, "I just sort of tell people what I think makes sense, and I'm prepared to respect disagreements."
On the occasions he lost a battle, his temper flared. For example, Daniels recently blamed the ouster of Republican Superintendent of Public Instruction Tony Bennett on teachers who broke election rules.
When I speak publicly about the last eight years in Indiana politics, I remind folks there was a time—early 2006—when Daniels did not enjoy approval ratings near 60 percent, as he does on his way out of office. Back then, only 37 percent of Hoosiers approved of the job he was doing.
Even at that low point, he rarely wavered from his agenda. He never backed down from a fight. And he was always a fierce political opponent. For the most part, he followed his social issues "truce" and focused instead on a drumbeat message of jobs, the economy and fiscal responsibility.
I respect those traits as vehemently as I disagree with a number of Daniels' fundamental beliefs about government and its role in our lives.
As we watch the transition of one administration to the next, it will be fascinating to compare and contrast Daniels, who never lost his way, with Pence, who's yet to articulate his.•
• Wagner is a lifelong Indianapolis resident and founding principal of Mass Ave Public Relations, a local public relations and publicity firm. Send comments on this column to ibjedit@ibj.com.
Please enable JavaScript to view this content.