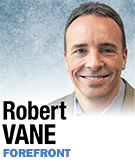 Legacy can be a tricky word. Most leaders are interested in the legacy they will leave when their term ends or they step down from running an organization or entity; others, you could say, probably border on obsessed. Politicians, my reading of history has educated me, fall mostly into the obsessed category.
Luckily for Indianapolis, Mayor Greg Ballard is the exception. In fact, when I worked for him for a couple of years, he banned "legacy" from speeches and other materials written on his behalf.
Of course, being the east-sider that I am, I put the word in, anyway.
For a mayor who doesn't care much about legacies, Ballard seems to be creating more than his fair share. The revitalization of the City Market counts among them.
Frequently, I sat in his office and listened to plans for a City Market renaissance. In every single meeting, I begged for a McDonald's or Long's Bakery to be considered, and each time I was wrong (although the lack of a McDonald's downtown is downright tragic).
Ballard and the president of the City Market board, Wayne Schmidt, had a plan that not only would bring people back in droves, but also embrace a healthy lifestyle. Schmidt, the respected owner of Schmidt and Associates architectural and engineering firm, puts it best.
"The City Market is back," Schmidt said. "We took the mayor's vision, connected it with the market's proud history, and infused it with the Hoosier entrepreneurial spirit. The result is a landmark in which all of Indianapolis should feel a sense of pride."
Schmidt is also quick to credit Stevi Stoesz, the market's executive director, for her hard work and considerable talent. Her connections in the food and marketing world, along with her Broadway lights personality, have gone a long way toward making people want to be a part of the market experience again.
City markets are experiencing a renaissance across the country due in part to a strong commitment to local, healthful foods and products. Indianapolis City Market has an honorable heritage of offering these items while providing an environment that fosters the small-business-incubator concept.
Beginning with a new look, the historic Market House has undergone a transformation that creates a vibrant and exciting public space that boasts new paint, floors and lighting and a new group of artisan merchants.
More than the outward improvements, City Market embraces a small-business enterprise model that is both progressive and successful.
In September 2011, the Indy Bike Hub/YMCA became the first partnership of its kind in the country. A resource for health, fitness and alternative commuting efforts, the Hub occupies City Market's east wing and promotes sustainable living.
The platform brought together local neighborhood-building and granting organization Local Initiatives Support Corp., the Indiana Association for Community Economic Development, Indy Winter Farmers Market, the Cultural Trail and Indianapolis City Market Corp. under one roof in the west wing last month.
Tomlinson Tap Room opened on the second floor in November. A partnership between City Market and the Brewers of Indiana Guild, Tomlinson boasts 16 taps accommodating more than 40 Hoosier microbreweries. Indiana is at the fore of the craft beer movement across the country, and City Market embraces this type of local culinary trend.
While a revitalized City Market isn't Ballard's most important legacy, it symbolizes the mayor's drive to improve the quality of life at every level. Working with leaders like Wayne Schmidt and Stevi Stoesz, the mayor has restored a cherished city landmark while energizing local businesses.•
• Vane, a U.S. Army veteran, has worked for elected Republican officials including Indianapolis Mayor Greg Ballard, and currently owns the public relations firm Veteran Strategies. Send comments on this column to [email protected].
Please enable JavaScript to view this content.