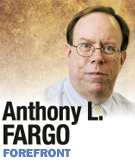 When Interstate 64 came to my hometown, I was too young to appreciate what an amazing engineering feat it was. To me, the construction zone was a wonderland of big trucks and other exotic-looking equipment.
But there is more to a road than the engineering marvels. There are environmental concerns, economic impacts, disruptions to lives and, of course, questions about how to pay for it.
Which brings us to Interstate 69.
By now, you probably have heard or read about the opening of the latest segment of the controversial highway and the announcement that money for the road will run out by the time it gets to southern Monroe County. That means my occasional trips from Bloomington to Indianapolis won't change much, but it will be easier to get to Evansville, should the mood ever strike.
The proposal to build I-69 was starting to heat up as a news story around the time I moved to Bloomington in 2004. From the start, I was skeptical of both the state officials who vowed to get it built and the local officials and activists who vowed to fight it.
Having experienced up close the building of one interstate highway and the aftermath, I thought I knew what was coming. One thing I didn't anticipate, however, was the state announcing it was out of money just as Gov. Mitch Daniels was revving up his motorcycle to help christen the latest completed segment.
In early December, INDOT began soliciting ideas for how to complete Segment 5 from Bloomington to Martinsville, including possible public/private partnerships.
It's funny, but I don't remember much being said back in 2004 about the possibility that the state couldn't afford to finish the road once it got started. Wasn't the sale of the Indiana Toll Road supposed to prevent that from happening?
While I had no strong opposition to the road being built, I was skeptical about the promises of economic development.
But I also was skeptical about the opposition to the road because there seemed to be an obvious need to provide the missing Evansville-Indianapolis spoke in the interstate map in Indiana. Also, projects like this take on a life of their own.
I now find myself, somewhat reluctantly, agreeing with a recent editorial in the Bloomington Herald-Times stating that INDOT now has an "obligation" to complete Segment 5 of I-69 to Morgan County. It is projected that when Section 4 is completed in southern Monroe County, traffic will double on State Road 37, which already gets crowded at times.
While I am joining the ranks of the "build, baby, build" forces, my lack of enthusiasm is based on my experiences watching I-64 arrive in my hometown 40-some years ago.
The environmental concerns were and are legitimate. The traffic increase will raise the smog level, particularly in the valleys, and in Bloomington. That will be especially true if 37 is not upgraded to interstate status and all that new traffic has to slow down to speeds appropriate for a four-lane road with multiple access points.
Also, promises of an economic development boom along the I-69 corridor will not materialize. There will be more fast-food places, budget motels and gas stations at the exits. But some businesses in the heart of towns along the route will move closer to the highway, and nothing will replace them downtown. The highway will remove one obstacle to luring major employers, but if other things potential employers seek were lacking before, the road won't magically produce them.
Happy motoring.•
• Fargo is an Indiana University journalism professor and member of the Indiana Coalition for Open Government. Send comments on this column to ibjedit@ibj.com.
Please enable JavaScript to view this content.