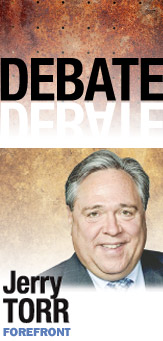 QUESTION: The Indiana Chamber of Commerce plans to ask the General Assembly to tighten some unemployment insurance laws, saying too many jobless people falsify documents or apply for positions and then refuse resulting job offers. Is abuse a problem, and should the Legislature act?
ANSWER: Anytime a government program makes tax dollars available to certain individuals, unfortunately, a few will look to game the system. This is the case not only with unemployment insurance, but also with Medicaid, government contracting and myriad other state and federal functions.
Unemployment insurance is designed to provide a safety net for citizens who become unemployed through no fault of their own. As with any government program, the system has instances of fraud and abuse.
I have seen friends and family benefit from the program on a short-term basis. Most who are unemployed want to get back to work as soon as possible, and the insurance is a great safety net for those who need it during these times of transition.
A few abuse the system by not making a diligent effort to find work. It becomes criminal fraud when recipients collect benefits while working on the side for cash, or sometimes even taking full-time jobs with another employer while deceiving the Department of Workforce Development and continuing to receive benefits. Some provide misleading information when applying for benefits, and I'm told that—in a few instances—someone even stole another's identity in order to work and collect benefits at the same time.
In the last few years, the department has taken significant steps to prevent, detect and prosecute unemployment insurance fraud. Unemployed Hoosiers now file for the benefits online; in the process, they are informed of their rights and responsibilities and are required to attest under penalty of perjury that the information provided is truthful and accurate.
Additionally, the department now has technology to cross-reference new hires with unemployment recipients so it can more readily detect those who continue to collect insurance payments.
The department has also implemented a website that displays each person convicted of unemployment insurance fraud over the past two years. The site shows mug shots along with the news release detailing sentences received and restitution ordered.
The department has also been educating employers and local prosecutors. Because of these efforts, successful prosecutions increased in 2011 and grew even more significantly in 2012.
We are always glad to hear suggestions from the administration for legislation that will make it easier to carry out public policy.
Thanks in part to the leadership of Rep. Dan Leonard, R-Huntington, over the last few years, we have been successful in working to close the $2 billion insurance gap. The department believes the statutory framework is in place to continue weeding out fraudulent claims.
The Legislature should instead focus on what we can do to reduce the need for unemployment compensation.
Remarkably, while more than 250,000 Hoosiers are unemployed, employers cannot find qualified applicants. It was recently reported that 4,800 technology positions, 3,800 openings in health care, and 1,700 positions in finance are open in central Indiana.
The General Assembly will spend many hours during the upcoming session discussing how to address this skills gap. We must work with employers, high schools, colleges and other stakeholders to ensure every Hoosier has the education to find meaningful employment.•
• Torr, a Republican from Carmel, represents House District 39, which includes a large portion of Clay Township in Hamilton County and Carmel. Send comments on this column to ibj.edit.com.
Please enable JavaScript to view this content.