Citizens Energy Group is a not-for-profit, public charitable trust whose excess earnings are meant to benefit ratepayers, not shareholders. But that doesn't mean top executives of the 125-year-old trust aren't well-paid for their efforts.
Its $1.9 billion purchase of the city's water and sewer utilities last year doubled the size of Citizens Energy—and the pay of CEO Carey Lykins.

Lykins
Citizens' board on Dec. 12 approved $2.84 million in total compensation for Lykins.
He earned $1.5 million the year before.
Lykins' base salary rose to $597,000, from $548,000 in 2011, and he got a $133,000 bonus pertaining to the success of the water/sewer utility integration, the same as in the previous year. The big difference was $916,000 he was awarded through an executive incentive plan.
Last year, Lykins received no EIP payments, which are paid on a two-year cycle and link pay to various performance measures as well as customer satisfaction. The 2012 incentive payments are approved after the end of the utility's fiscal year, Sept. 30.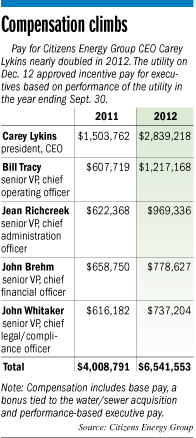 Lykins also received $616,000 under a short-term incentive plan for which most employees are eligible. That's up $145,265 from 2011.
The executive who started with Citizens almost 40 years ago as a jackhammer operator is being rewarded for savings achieved in the integration of the water and sewer utilities with the utility's flagship natural gas division and other holdings.
Savings included reduced duplicative general and administrative costs and economies from such things as bulk ordering of materials. Citizens said it now has 1,115 employees, up from the 714 it employed prior to buying the water and sewer utilities.
Last February, Citizens increased its savings projection to $68 million for the first full year after water and sewer utilities came aboard. But in a report last month to the Indiana Utility Regulatory Commission, Citizens claimed total savings from the merger of $112.7 million.
"Our initial estimate was $60 million in annual savings after a three-year integration period, so we are far exceeding that and achieving it in our first year," said Citizens spokesman Dan Considine.
Mayor Greg Ballard and Citizens officials, when announcing plans in 2010 to sell the water and sewer utilities to Citizens, touted that such savings could help reduce future rate increases for customers.
Whether under city or Citizens ownership, the two utilities needed massive capital improvements. Not the least of these is a federally mandated reduction of raw sewage overflows into rivers and streams.
Citizens is now overseeing the construction of a massive tunnel being bored about 200 feet below the city that will store storm sewer runoff until it can be processed at sewage plants.
In its most recent annual financial report, Citizens Energy reported net income of $32.4 million.
That reflected a one-time, $49.6 million gain from suspending the pension and retirement plans of Veolia Water, which had operated the water utility under city ownership. And it made the water division the best performer, with net income of $53.4 million compared with $5.8 million net income in the chilled water division, $4 million net income in the oil division, and a loss of $2.5 million in the gas division.
The water division looks even better considering the higher-than-expected savings and favorable customer-service metrics.
"The overall performance this year is just outstanding," James McClelland, a Citizens board member, told the utility's compensation and finance committee on Dec. 12.
He congratulated officers in the executive incentive plan for topping performance targets. McClelland also told the committee it was important to continue to attract top talent "and get the kind of performance we're seeing here.
"This has been anything but a traditional, staid utility," McClelland added.
Minutes later, the full board approved the executive incentive pay increases.
In doing so, Citizens, with operating revenue of $436.6 million last year, paid its CEO almost as much as Evansville-based Vectren, an investor-owned electric and gas utility with revenue of $2.3 billion, paid its chief executive.
Vectren, which co-owns with Citizens the Indianapolis gas marketing firm ProLiance Energy, last year paid CEO Carl Chapman a total $3.1 million, a smidge more than Lykins' $2.84 million.
"Wow," responded Kerwin Olson, executive director of utility watchdog group Citizens Action Coalition, when told of Lykins' pay. "That seems excessive for the CEO of a public charitable trust."
A public charitable trust could be regarded as the polar opposite of an investor-owned utility that rewards its CEO with multiple millions of dollars to maximize shareholder return at the expense of ratepayers.
Citizens has countered that its executive pay structure, to the extent it enhances utility performance, benefits utility customers.
It cites Citizens' ranking among four top utilities in the Midwest for nearly a decade in J.D. Power & Associates customer surveys.
In September, for the second year in a row, Citizens customers ranked it the best gas utility in the Midwest for service, J.D. Powers said.
Lykins said such a rating was notable given events such as this year's drought and the streamlining of customer service functions with the assimilation of the city's water and sewer utilities.
Citizens for years has employed consulting giant Mercer to conduct an annual survey of what executives of similar responsibilities made at firms with similar revenue and complexities.
About 75 percent of those companies in Mercer's survey are from the utility sector and another 25 percent from other industries.
Citizens determines executive pay based on the 50th percentile of the market for comparable executives.
Put another way, 50 percent of executives earned more, 50 percent earned less.
Measures such as safety and operational efficiencies also factor into the equation.
During the compensation and finance committee meeting this month, board member Phillip Terry asked whether "maybe we should make the [performance] targets a little higher?" in future determinations.
Even Lykins, the prime beneficiary of the executive incentive pay program, noted that a number of key targets have been achieved now for several years in a row.
Another board member wondered aloud whether the committee might want to tweak the incentive pay determination by looking at other industry performance measures.
Committee members discussed the possibility in the months ahead of issuing a request for proposals from firms that could provide the board more perspective on determining incentive levels.
At the recent board meeting, Lykins, 60, indicated that succession planning is under way, as several executives are nearing retirement age, including him.•
Please enable JavaScript to view this content.