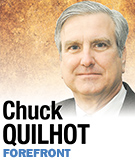 During the past three years, I have had the opportunity to serve Arsenal Tech High School's football team. It has been an edifying time as I have gotten to know our urban high school students in ways only somebody called "coach" can understand.
Indeed, as a guy who spent years comfortably enjoying the upper-middle-class WASP life on the north side, I learned that many students and families from our financially poorest neighborhoods are some of the most ambitious, faithful, brightest and engaging people around.
Recognizing these truths, many Republicans ask why racially diverse citizens do not return to or embrace the party of Lincoln. After all, is not the Grand Old Party the safe haven for the ambitious, pious and just plain nice folks?
In a word, no. Please indulge me a foundational anecdote.
Before a necessary but disappointing Indianapolis Public Schools policy dictate, many coaches drove athletes to or from practices and games. One summer afternoon, I had a car full of tired footballers. As I was driving east on 10th Street, a rising senior asked, "Coach Q, why do you guys come into our neighborhoods and try to do everything for us?" The young man went on to point out how we just passed two free food pantries, a free health clinic, a quasi-government community center and government-subsidized housing.
My conservative Republican bones warmed, thinking the young man gets it. In fact, his teammates jumped into the conversation pointing out how so many use government and charitable freebies so they can indulge carefree and wanton lifestyles.
Recall Ronald Reagan's scornful observations about the welfare queens? My car full of teenagers' opinions made Reagan's observations seem benign.
To top it off, when asked about President Obama and the current state of political affairs, their criticisms went off the chart. Some claimed Obama is a sellout, he's as white as he is black, and things are—if anything—worse than before.
Ok, they were probably indulging me but, believing future Young Republicans and Indiana University Kelley School graduates were in my car, I asked what political party and candidates they liked. Despite the traditional Republican values that had just warmed my heart, to my surprise they turned on a dime and made clear their loyalty to the Democratic Party and particularly Obama.
Why the disconnect between these bright and observant young people and the type of public policies and political party they embrace?
Answers are deep-rooted, and what many Republicans claim as successes have flip sides. Consider:
• Unigov gerrymandered white suburban Republicans' hold on government reins. Minority Democrats know it, and know that changing Marion County demographics will shortly ensure their hold on political power.
• Nanny-state government policies and dictates—bad policy or not—convey compassion.
• It's not just about reading, writing and arithmetic in our schools. It's about the history, economic theories, and social studies and expectations we teach—most of which is taught from a Democratic perspective.
• Too often, Republicans' engagement with minority communities is fleeting, ham-fisted and flat-out haughty.
• Minority students are heavily influenced by traditional media and social media, both of which tend to espouse government activism and social programs.
Like the mythical Titans, today's Tech Titans will have incredible power and influence in our community. I'd like to believe today's GOP will embrace and win over the terrific young men and women I have gotten to know.•
__________
Quilhot is cofounder and chairman of Indiana Policy Review and has been active in Indianapolis Republican politics. Send comments on this column to ibjedit@ibj.com.
Please enable JavaScript to view this content.