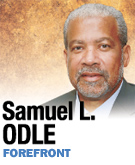 Mitt Romney's comment about 47 percent of people being "takers"—those who generally live off the rest of the population's efforts—reawakened me to a local version of this concept that creeps into our local discourse, that African-Americans in large numbers tend to live off the subsidies of others.
These biases affect how we act, or in some cases don't act, to balance the uneven scale of social issues.
An example of this is government health plans' not paying market compensation to doctors, the result being that people in such programs as Medicaid often lack access to the best doctors and services.
The mind-set is that these people are not paying for it and we, the rest of society, cannot afford to fund it for them.
Ironically, it costs us even more when they fall even sicker further down the road.
Other examples include free public housing and subsidized rents, but in homes and apartments we would not live in ourselves. Or the continuing lack of appropriate state dollars to fund preschool for all children, even though evidence proves it lifts educational attainment, which in turn helps lift them out of poverty.
I choose to look for the contributions that all people make, whether they have the blessings Indiana provides or are struggling to get there. I think this is particularly relevant to African-Americans because they have contributed to this state's greatness in so many ways, even back before Indiana was a state.
In "Indiana's African-American Heritage," published by the Indiana Heritage Society Press, there are numerous examples of contributions from African-Americans on the frontier.
The story of John Henry Clay, an African Methodist Episcopal minister, is telling in that blacks were encouraged to migrate from the slave South to a free Greencastle, where there was work and opportunity. The reverend followed on with assignments in New Albany, Bloomington and Terre Haute before settling into his final church, Bethel AME in Indianapolis.
Each of these communities had populations large enough to support a black church dating all the way back to the middle 1800s. The only thing they could take back then was the hard work that helped settle Indiana. A bunch of takers, I think not.
Lest you think that only black men or ministers made significant contributions to Indiana's culture, Lillian Fox, the first black female reporter for the Indianapolis News, was also quite the community activist and helped organize many women's clubs and auxiliaries. The best was the Indiana State Federation of Women's Clubs, which sponsored activities such as self-improvement classes, literacy classes and funding for medical care in the white and black communities.
Black women also staffed the tuberculosis camp in the Brightwood area of Indianapolis from 1905 to 1916. Takers risking their own lives to care for others? I don't think so.
When we take a little time to view our history through the lens of facts, we soon discover that all people make contributions in some way. Maybe not all contributions work out to be in alignment with our specific values or political beliefs, but they are contributions still the same.
Over the holidays, when we hope to have the time to slow down, I encourage you to team up with friends or family of another race and explore each other's history at the Indiana Historical Society. You might leave with a newfound optimism.
Forty-seven percent of Hoosiers, takers? Nah! Just some of our fellow citizens struggling to find their way to the American Dream.•
__________
Odle is the former chief operating officer of Indiana University Health and CEO of Methodist and University hospitals. Send comments to ibjedit@ibj.com.
Please enable JavaScript to view this content.