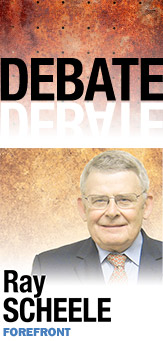 QUESTION: Several Republicans have begun signaling their intentions to run for president in 2016, with Gov. Mike Pence included among them in published reports. If Pence were to run, would he be competitive?
ANSWER: There's an old saying that a week is a lifetime in politics. Between now and Election Day 2016, there are 200 weeks—and that many lifetimes. If Gov.-elect Mike Pence is to run for president in 2016, he must begin immediately. He is already behind. Other Republicans are formulating their plans and contacting potential donors. This activity is under way while Pence is finalizing his gubernatorial administration and fine-tuning his legislative program.
It is highly unlikely he would be competitive if he chooses to make the run in 2016.
This is not to say Pence lacks the qualities to realistically compete nationally. He is a skilled politician who has learned many lessons through his many campaigns. His congressional years brought some prominence and he is smart enough to maintain national contacts.
But now he has a state to govern, and Hoosiers do not generally reward political leaders who win one office and immediately decide to run for another. If he announces for president soon, his statewide support will plummet.
Another factor is the plight of the current national Republican Party. Its presidential nominees have lost the national popular vote five out of the last six elections. Key groups have abandoned the GOP national ticket, including young people, African-Americans, Hispanics and urbanites.
The center of gravity of the Republican Party is far right of center, not only on economic issues but, most important, on social issues. Pence staked out strong conservative positions on social issues while in Congress and, although he was able to dodge most of these in his gubernatorial race, they are on the public record and he will have to defend these in a national campaign.
To be competitive, he must carefully assess the place of his party in terms of the issues he loudly and proudly espoused in Congress.
Being governor might actually assist Pence in a national race. Presidential candidates from governorships have a solid record when it comes to being nominated for president. Counting Barack Obama, four of the last six presidents were governors.
Political scientists have documented that voters have different perceptions of political offices. The qualities needed to be a successful legislator versus an executive are different, and citizens take this into account when assessing presidential candidates.
Pence's success as governor will provide another dimension to his career and could be an asset in a presidential race.
But just as a week is a lifetime in politics, it is also true that timing is everything. It is unrealistic now to view Pence as a competitive presidential candidate in 2016, but he is young, politically speaking, and has time to launch a presidential campaign in 2020 if he is re-elected governor in 2016.
Indiana has a long tradition of providing realistic presidential contenders.
Just last year, Gov. Mitch Daniels had to make the decision and disappointed many when he declined to run. In 2008, Sen. Evan Bayh was seriously considered as a candidate and was a finalist on Obama's vice presidential list.
In 2000, former Sen. and Vice President Dan Quayle sought the Republican nomination before dropping out in favor of George W. Bush. In 1995, Sen. Richard Lugar campaigned in New Hampshire before dropping out. In the 1970s, Sens. Vance Hartke and Birch Bayh launched unsuccessful campaigns for the Democratic nomination, and it was just last year that Pence himself was mentioned as a candidate.
Mike Pence for president? Not realistic in 2016, but Election Day 2020 is only 408 weeks away.•
• Scheele is a political science professor and co-director of the Bowen Center for Public Affairs at Ball State University. Send comments on this column to ibjedit@ibj.com.
Please enable JavaScript to view this content.