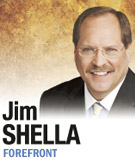 "Is there any chance we can be there when you get the call?" I asked Dan Quayle on the morning he was chosen to be George Bush's running mate.
Quayle's eyes rolled to the ceiling. "I hadn't thought about that," he said.
"Absolutely not!"
That was Marilyn Quayle chiming in from the back of the room.
"Well," said the soon-to-be vice president as he looked me in the eyes, "I guess not."
As it turns out, Quayle was taking a walk when the call came in.
It's just some of what I've learned while covering Indiana politics for what is, all of a sudden, the last 30 years. The opportunity to write the first draft of history has taken me to the White House, the floor of Congress, and 12 national political conventions. I was even escorted out of the Pentagon at gunpoint after following the directions of a misguided staffer (he got thrown out, too).
Dick Lugar is the Indiana politician who made the best effort to win a race for president, challenging Bob Dole for the GOP nomination in 1996. Yet it was a campaign that saw little success from the time the Oklahoma City bombing took network TV crews away from his formal announcement, to the days before the Iowa caucuses when Dole delayed votes on the farm bill to keep Lugar in Washington, to New Hampshire, where Lugar was ignored by the national media.
His press secretary was on the phone to CNN shortly after the formal withdrawal launching a profane tirade over a lack of coverage, and that sort of summed up the whole experience.
There's been tragedy, including the plane crash that took the lives of White River State Park Commissioners Frank McKinney, Bob Welch, Mike Carroll and John Weliever, and the death in office of Gov. Frank O'Bannon. Joe Kernan took the oath of office in the Supreme Court Chamber following impromptu choreography that Justice Ted Boehm sketched on a blank sheet of paper.
There have been scandals—from Supreme Court Clerk Dwayne Brown letting a foot fetish get in the way of his place in history as the first African-American elected statewide (he could tell a woman her shoe size just by looking), to Jack Crawford's affair at the Hoosier Lottery, to Charlie White's notable emergence as the first chief election officer to be found guilty of voter fraud. But those are sidebars.
Evan Bayh was a glamour boy when he arrived on the scene, but was still secretary of state when he presided over the power-sharing agreement in 1989 that allowed the Indiana House to operate with two speakers who took turns directing 50 Republicans and 50 Democrats. The negotiations started on a Tuesday and ended early on a Thursday that just happened to be Thanksgiving.
Mitch Daniels may go down as the best governor of this era, but I don't think there's been a bad one.
On the other hand, we've seen some poor politicians hoping to become governor. It's hard to forget Linley Pearson walking out on his own GOP convention, or how Steve Goldsmith's arrogance turned fellow Republicans against him.
On a day we found photographic proof that Goldsmith was dyeing his hair from salt and pepper to jet black with a little gray at the temples, he said, "It's a matter of personal hygiene and it's personal."
This just scratches the surface, and it may take a while to figure out where Richard Mourdock fits in. There's never time to share it all.•
Shella is WISH-TV Channel 8's political reporter as well as host and producer of the Emmy-nominated "Indiana Week in Review." Send comments on this column to ibjedit@ibj.com.
Please enable JavaScript to view this content.