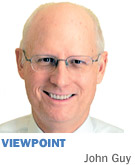 Despite evidence that change is necessary, some businesses, not-for-profits and associations cannot do it. An example is service clubs.
The Indianapolis Jaycees, having had more than 400 members in 1976, appears to have canceled its telephone number.
Zionsville Kiwanis ceased business in September.
Lions International dropped from 1.45 million members in 1995 to 1.3 million in 2009.
Kiwanis nationally was down 20,000 from the early 1990s to 2008.
Rotary in the United States had more than 445,000 members in 1996 but only 375,000 in 2007. In the five years ended in June, its U.S. membership was down 8 percent. The Indianapolis Rotary Club is slightly above 400, once having had 700 or more.
With these kinds of numbers, service clubs should be reforming themselves for a new age, but the weight of tradition is too much.
Typical institutions, such as Rotary's every-three-year legislative session, attended by hundreds from around the world, are slow to act, unable to receive and to approve radical suggestions for reform. Many volunteer leaders serve one year, not enough to formulate new programs and find support for implementation. Governing by consensus militates against dynamic reform and decision making by Roberts Rules.
Instead of looking to new ideas, the existing projects, meeting locations, times and procedures are comfortable for current members.
What kinds of reforms might work?
Elect younger leaders top to bottom. Change terms to two years. For Rotary, replace the lead annual fundraising effort from eradicating a disease no longer present in the United States to a cause more appealing to young Americans (but continue the eradication effort with existing foundation capital).
Make membership recruitment the important goal of district and regional leaders, replacing fundraising. Reduce the annual burden on the district official by changing the requirement that he or she visit every club every year; make it once in two years, each visit planned to attract new members and create new, local membership programs.
Solicit an outside critique of the format of weekly meetings; seek greater inclusiveness in ceremony (such as non-religious invocations) and in the substance of speakers and activities. Broadcast meetings on high school radio stations.
Publish white papers dealing forthrightly with what works to attract members and what does not, in hopes of eliminating repetition of gimmicky, slogan-based campaigns with a history of failure.
Reduce dues for people under 30 and over 70. Reduce or eliminate dues for members who are new mothers or new home-based dads. Offer lifetime memberships to keep seniors on the roles.
Hire a national executive director with a five-year mandate to increase membership, and a potential bonus at the end. Support his or her recommended policies. Bring local clubs together to hire professional membership recruiters.
Only experimental implementation will determine which ideas work. Some will die of their own weight. But one, or maybe two, might make the difference.
Thousands of Indiana service club volunteers provide invaluable service: natural disaster recovery, high school leadership training and recognition, sending surgical teams abroad, hosting excellent weekly speakers, managing community celebrations, collecting food for food banks.
How sad it will be if these efforts come to an end because the organizations do not reform to attract new members.•
__________
Guy is an Indianapolis money manager, certified financial planner and president of Wealth Planning & Management LLC. He is the author of "Middle Man, A Broker's Tale." Send comments on this column to [email protected]
Please enable JavaScript to view this content.