Centaur Holdings LLC says central Indiana's two horse-racing tracks will earn more money after ending the quirky practice of sharing two types of racing.

Centaur plans to concentrate all thoroughbred racing at Indiana Downs in Shelbyville and all standardbred harness racing at Hoosier Park in Anderson. The plan, approved by the Indiana Horse Racing Commission, could take effect this spring if Centaur clears other regulatory hurdles by March 1.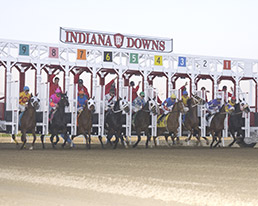 Indiana Downs in Shelbyville will become the only place in Indiana to see thoroughbred racing if Centaur Holdings LLC takes over the track and Indiana Grand casino by March 1. (Photo courtesy of Indiana Grand)
Indianapolis-based Centaur, which owns Hoosier Park, is poised to become the only racetrack-casino operator in the area, pending regulatory approval of its purchase of the Indiana Grand Casino and Indiana Downs.

Indiana horsemen are thrilled about their industry's potential under Centaur's one-breed-per-track strategy.

"This is one of the greatest opportunities to enhance racing in Indiana since the slots were passed," local thoroughbred breeder Jim Hartman said. "It really is that big a deal."

The Indiana Legislature in 2007 allowed central Indiana's two racetrack owners, Centaur and Indianapolis Downs LLC, to add slot machines to their facilities, and a slice of the tax revenue generated by the slots goes to support the racehorse breeding industry.

But live audiences are dwindling at tracks nationwide, and wagering on Indiana races has fallen steadily since 2005. Though Centaur has offered no specific revenue projections, horsemen believe the firm will improve the tracks, lift the overall quality of racing, and attract more wagering on their sport.

"It's all about bringing the bettor in and having him gamble on our product," said Jeff Edwards, an Indianapolis-area standardbred breeder.

At the least, keeping each breed in one place for the late March-November season will improve safety for the horses and make track operations more efficient for Centaur.

"If I owned both those tracks, that's definitely what I would do," said Herb Likens, president of the Indiana Thoroughbred Owners and Breeders Association.

Centaur is planning major improvements at both casinos and racetracks, including a 1,500-person music venue in Anderson, Vice President and General Counsel John Keeler said. Centaur also mentioned an "entertainment complex" and additional slot machines for the Shelbyville casino in its presentation to the racing commission.

Keeler declined to elaborate on those plans ahead of this month's Indiana Gaming Commission hearing on the transfer of Indianapolis Downs' gambling license. The Shelbyville track and casino owner, controlled by South Bend businessman Ross Mangano, went into bankruptcy in April 2011.

Centaur hopes to buy its former rival out of bankruptcy for $500 million. Keeler thinks the gambling commission will OK the license transfer, and the Federal Trade Commission will also approve the sale by March 1.

Track record

Horsemen are optimistic about upgrades at both tracks.

So far, Centaur has promised to build 300 more stalls at Indiana Downs, a roughly $2 million investment, as required by the racing commission.

Centaur also agreed to seek Indiana Downs' certification by the National Thoroughbred Racing Association. Only 22 tracks in the country have received the trade group's blessing for safety. All of those are in racing hotbeds like New York, California and Kentucky.

Horsemen expect Centaur to go even further with improvements, though there are no concrete plans. Their optimism is tied to Centaur CEO Rod Ratcliff, who has been a player in Indiana racing since Louisville-based Churchill Downs built Hoosier Park in 1994.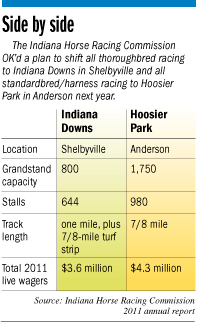 Last year, Centaur spent $800,000 on a new scoreboard at Hoosier Park, Keeler noted. While off-track betting parlors across the country are closing down, he said, Centaur invested $3.5 million on a new Winner's Circle OTB in downtown Indianapolis.

Ratcliff's presence was also key to the racing commission's approval of the Indiana Downs takeover. He cannot be removed—voluntarily or involuntarily—from Centaur's board of managers without notice to the commission, commission Chairman William Diener said.

"We know him, we know his commitment to horse racing. We want to make sure he's there," Diener said. The rest of Centaur's corporate governors represent lenders, he said.

Keeler would not say how much Centaur borrowed for the acquisition. Goldman Sachs and Deutsche Bank are the main lenders in the program, which calls for restructuring existing debt and borrowing against both properties, he said.

Ratcliff, 54, also has a track record of attracting financing. His predecessor company, Centaur Inc., had $1 billion lined up in 2007 for gambling projects in three states, including the addition of slots at Hoosier Park.

Centaur Inc. ended up in bankruptcy, and about 80 Indiana investors lost their original investments. Ratcliff and three other principals emerged with Centaur Holdings in 2011.

Ponies are not the profit drivers at central Indiana's racetrack-casinos, or "racinos," but the horsemen are an important political ally. Their support allowed Centaur to add slot machines in the first place, Keeler noted. "As a company, we've chosen to try and excel at racing."

Centaur is extending its commitment as interest in the sport declines.

The total in-state handle, or amount wagered, fell to $125 million in 2011, the lowest level since 1995, according to the Indiana Horse Racing Commission's most recent annual report. Betting on horse racing peaked in 2005 at $190 million.

Most of the gambling happens remotely. Live audiences wagered just under $8 million between the two tracks in 2011.

Diener hopes Centaur can at least stabilize the wagering trend, most likely by getting more out-of-state locations to pick up Indiana's simulcast.

Diener also thinks Indiana Downs could attract enough out-of-state horses and raise its entry fees high enough that events like the Indiana Derby would earn a top national rating.

"While Indiana Downs would never be a Churchill Downs, it would still be an important and well-thought-of regional horse track," he said.

Indiana Downs is the logical place for dedicated thoroughbred racing because its dirt oval track is the standard one-mile length, but it has its drawbacks, said Hartman, the thoroughbred breeder.

"It's just not set up where it's fan-friendly and integrated into the gaming side," he said. The layout of the grandstand and back-of-the-track areas is inconvenient, he said, and Indiana Downs lacks a physical connection to the casino.

The track at Hoosier Park is better suited for harness racing because it's 7/8-mile and more steeply banked. Standardbred owners want Centaur to invest in an electronic tracking system, which allows bettors to follow the horses turn-by-turn. They also want to widen the track to accommodate 10 horses at the starting gate, Edwards said.

Keeler wouldn't talk specifics about track upgrades, but he said, "We intend to take the Hoosier Park culture to Indiana Grand and Indiana Downs. That includes an integration with racing and gaming."•