A local group led by the Indiana Sports Corp. is bidding to bring the U.S. Olympic Swimming Trials to Indianapolis for the fifth time.

But unlike the last four swimming trials hosted here—in 1984, 1992, 1996 and 2000—the event wouldn't be in the 4,200-seat IUPUI Natatorium.

Instead, local officials are aiming to host the 2016 Olympic Swimming Trials in 63,000-seat Lucas Oil Stadium.

If Indianapolis' bid succeeds, it would be the first time the event is held in a stadium and likely would be the biggest, most lucrative U.S. Olympic Swimming Trials ever.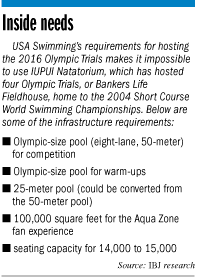 USA Swimming is expected to select a host city in May.

Officials for Visit Indy, the city's tourism marketing arm and a partner on the bid, project the 2016 Olympic Swimming Trials would generate at least 21,500 hotel room nights and have an economic impact in excess of $30 million, putting it on par with the city's three biggest conventions. A Final Four has an economic impact of just more than $40 million.

Those familiar with the event said it could draw more than 80,000 visitors to the city during its eight-day run in July.

If Indianapolis wins the bid, Italy-based Myrtha Pools, a sponsor of USA Swimming and FINA, the sport's international governing body, would likely supply the pools to be constructed on the stadium floor.

The event would cost about $5 million to host, with much of that money expected to come from ticket revenue with some supplemental support from the community.

Before 2004, U.S. Olympic Swimming Trials were largely held in intimate swimming-specific venues. Then along came Michael Phelps. The popularity of the sport soared and USA Swimming required venues hosting the trials to have seating for at least 14,000.

In 2004, the trials were held in a temporary outdoor facility in Long Beach, Calif. Omaha, Neb., hosted the 2008 and 2012 trials at the CenturyLink Center, an 18,000-seat arena adjacent to the Omaha Convention Center. In that arrangement, the competition pool was set up in the arena with the warm-up pool in the convention center.

Melangton
When new ISC CEO Allison Melangton started putting together a bid for the 2016 trials, she knew the Natatorium had too few seats and Bankers Life Fieldhouse didn't have the floor space needed for two eight-lane 50-meter-long swimming pools plus 100,000 square feet for the Aqua Zone interactive fan center required by USA Swimming.

"Lucas Oil Stadium was built to be flexible and host a variety of events," Melangton said. "We're confident it will be a good host site for the Olympic Swimming trials."

The stadium's site lines, its ample floor space plus additional gathering space outside the playing area should make the local bid a serious contender, Melangton said.

In addition to Lucas Oil Stadium, local officials included three exhibit halls inside the Indiana Convention Center totaling 164,000 square feet of exhibit space, for potential use of the 2016 swimming trials. That space would likely be used for part of the Aqua Zone fan attractions and for athlete preparation and staging areas.

Bids were due Dec. 21, and though USA Swimming hasn't yet disclosed who has bid, sources within the sport said Jacksonville, Fla.; Louisville; Omaha; San Antonio; St. Louis; and Indianapolis are expected to be top contenders.

Dale Neuburger, a former ISC CEO and current USA Swimming board member, thinks Indianapolis has a solid shot at winning the 2016 bid.

"Indianapolis is a city with great support for swimming and a tradition in the sport dating back to the days of Doc Counsilman at IU. I have no doubt the trials would draw very big crowds [in Indianapolis] for every session," said Neuburger, who will have a vote on where the 2016 trials are held.

Indianapolis' central location and ISC's organizational muscle also should be pluses for Indianapolis' bid, Neuburger said. He added that "the flexibility of the venue is what makes [Lucas Oil Stadium] so attractive to a variety of event planners."

The prize for landing the event goes beyond its economic impact, local tourism officials said. "In addition to the economic impact, the [Olympic Swimming] Trials would provide the city with a lot of valuable prime-time exposure," said Visit Indy spokesman Chris Gahl.

NBC will broadcast eight evenings of the swimming trials during prime time. Bob Costas anchored NBC's 2012 Olympic Swimming Trials coverage. Gahl estimates the TV exposure alone could carry a $10 million marketing value for the city.

The event also would be used to lure convention and meeting planners and would be packaged with summer leisure travel packages, Gahl said.

The money and exposure from live attendance is nothing to sneeze at.

Total attendance for the eight-day meet in 2012 was 164,585. The per-session average was 10,972, with three of 15 sessions selling out. Arlene McDonald, executive director for the sport's state sanctioning body, Indiana Swimming, is confident attendance for the trials will be bolstered if they are held in Indianapolis.

"Indiana has an extremely strong swimming community, as does Illinois, Michigan and Ohio," said McDonald, who worked at the 2008 and 2012 swimming trials in Omaha. "Our central location really plays in our favor."

Illinois and Indiana are among the national leaders in the number of competitive swimmers and clubs among all USA Swimming's districts, McDonald said, with Illinois ranking No. 2 and Indiana No. 4 of 59 across the United States.

"I wouldn't hesitate to say that the attendance would be stronger here than it was in Omaha," she said. "And it could be a lot stronger."

McDonald said Indianapolis' downtown and Lucas Oil Stadium's place in it gives it another leg up, "allowing for a more festival atmosphere" than was possible in Omaha.

The now-retired Phelps was given much credit for drawing large crowds to the Olympic Trials in Omaha. Melangton is confident that swimmers like Ryan Lochte and Missy Franklin will continue to draw big crowds at the 2016 trials.

"Michael Phelps, and the exposure he gained for the sport, has changed the way people think about swimming," said Melangton, who replaced Susan Williams as ISC CEO in September. "Phelps put the spotlight on this sport and showed people how exciting it is. I think the popularity of the sport will transfer over to the next generation of competitors."

McDonald doesn't think the event will drown in the cavernous Lucas Oil Stadium.

"Having seen the event, I'm confident Lucas Oil Stadium would be a very nice setting for it," McDonald said.

The pools would not be placed in the center of the stadium floor, Melangton said, but would be situated to enhance the viewing experience of the event and to best accommodate fans and competitors. Melangton declined to speculate how many spectators might come to the trials at Lucas Oil Stadium, but said the venue likely could be configured to accommodate the ticket-buying demand.

Previous national and international swimming events held locally at the Natatorium have been huge hits, with some selling out months in advance.•