Whether in a dog-eared magazine or on the gallery walls of the Eiteljorg Museum of American Indians and Western Art, the photography from National Geographic magazine continues to stun.
Part of the reason, of course, is the subject matter. Our world has gotten smaller, but National Geographic continues to find places we've either never seen or to find new ways of looking at places we have seen.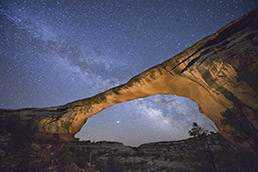 Natural Bridges National Monument, Utah, 2008. (Jim Richardson/National Geographic Stock )
On the pages, these images offer a magnetic pull into NG's stories—still smart after all these years. On the walls in the "National Geographic Greatest Photographs of the American West" show (on display through Feb. 10), the works are stripped of their narrative prose.
To no surprise, the carefully selected pieces stand on their own in an exhibition being seen simultaneously here and at nine other museums around the country. Collectively, they remind us that, while we all can snap photos with our smart phones, there's a remarkable extra something that world-class photographers bring to the art form.
Any of us, for instance, can point and click during a storm. But who among us has the patience and artistry to capture the horizontal lightning around Chimney Rock, Colo., the way James L. Amos does? We've seen image after image of cowboys and Indians, but in 1927, Edwin L. Wisherd had the vision to see the evocative power of both in conjunction with a bi-plane and the Montana sky.
The show's range is enormous, from 1879's "Apache Women and Their White Husband" (husband singular) to an Edwards Air Force Base shot of a relatively tiny space shuttle on a runway that seems as long and as wide as the desert. We get a way-too-close look into the eyes of a grey wolf pup and a telling image of the suburbs butting up against the desert.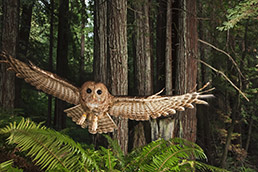 Northern Spotted Owl, California, 2009. (Michael Nichols/ National Geographic Stock )
And in the worth-a-thousand words department, I can't imagine a verbal description of a land rush that could capture the frantic, simultaneous action displayed in Thomas Croft and P.A. Miller's 1893 photograph.
And all that's just the beginning, which inspires me not only to go back and spend more time with these photos, but also to get to my next doctor's appointment a little early to see what wonders are in the latest issue of this national treasure of a magazine.
__________
The Phoenix Theatre's participation in the National New Play Network is more than commendable. In Indianapolis, it's borderline revolutionary to see so many new works given full, solid productions. Equally bold is the Phoenix's commitment to plays focused on Hispanic characters and its efforts to develop minority audiences.
"Guapa," running through Jan. 20—and with performances in Spanish on the 19th and 20th—exemplifies all of that in one pleasurable package.
Here we have a new play by Caridad Svich that centers on a young girl with the dream—and perhaps the skill—to make it in professional women's soccer. But this is far from an if-you-can-dream-it-you-can-do-it tale. What's holding her back isn't some evil opposing coach, it's her own self-image and the complex pressures of each of the members of a family she's living with.
The play is at its most interesting when we are
Magdalena Ramos (Pepi) and Phebe Taylor (Guapa) in "Guapa." (Photo courtesy of Zach Rosing)
fully immersed in the world of single mother Roly (a radiant Patricia Castaneda), her children—the studious Pepi and angry LeBon—and their adaptable cousin Hakim. Their difficulty in getting any traction in their world is palpable, their internal conflicts truthful and fresh, and their problems compelling. The soccer/football passion of Guapa (an ideally cast Phebe Taylor) also plays well, although it isn't quite believable that Roly would be resistant to her potential success.
The play falters, though, by not allowing its characters to face conflicts and make choices that lead to the play's conclusions. Much of the second act is built on random actions instead of characters making choices. A key plot point involves an accident, but the recovery—and the feelings it inspires—seem just as accidental.
Still, these are characters I wanted to spend more time with. And as much as I wished to know if Guapa made the big leagues, I wanted even more to know the fates of LeBon, Pepi and Hakim.
It seems unfair to push for a sequel before the original is polished, but if one gets written, I'd like to see it on the Phoenix stage.•
__________
This column appears weekly. Send information on upcoming arts and entertainment events to lharry@ibj.com.
Please enable JavaScript to view this content.