Ryan Downey reaches into a bag and pulls out a nozzle cap for a fire hydrant.
It doesn't look that unusual—until Halo Coatings' controller, Patrick Riley, whips out his smartphone and takes a flash photo.
The curvy cap that was gun-metal gray in ordinary light glowed like the moon in the photo.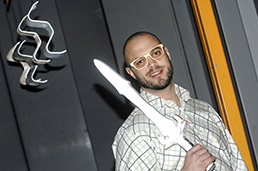 Ryan Downey has expanded his company's powder-coating reflective technology beyond highway guardrails. (IBJ photo/Perry Reichanadter)
Reflective tape isn't always an option for lighting up certain objects, said Downey, a principal of Halo.
The nine-person firm founded in 2007 spent its early years licensing its proprietary reflective technology for powder-coating applications to companies involved in highway infrastructure, such as guardrails.
"But highway is a slow-moving behemoth, bound by bureaucratic red tape and politics. Our focus began to shift toward the consumer space," Downey said.
Indeed, Halo may be on the verge of big money by shifting its focus to the apparel, medical and consumer-product segments. The strategy focuses on companies around the world with well over $1 billion in annual sales.
"When I got involved, it was highway, highway, highway," said Downey, who invested in the firm in 2008, when it was based in northeastern Ohio.
One of the inventors of the technology, whose patent sat on a shelf for five years, was a buddy of his from the University of Akron. Downey transferred there from Taylor University, in Indiana, to follow a girlfriend.
The relationship didn't work out, but Halo did. He and his father, David Downey, bought controlling interest in Halo in 2010 and moved its headquarters from Ohio to Johnson County.
Few have likely heard of Halo in these parts. It doesn't have a facility, per se, and most of its team members live in other states. Downey's chief chemist lives on Long Island, for example. His French- and Italian-speaking sales guy works out of Boston.
The scattered talent doesn't seem to have been a hindrance. Halo has gotten mention in no less than The Wall Street Journal, as part of a story about Oregon's innovative bicycle industry.
In 2011, a bike made by Tsunehiro Cycles was painted in Halo's reflective coating and was among winners in the Oregon Manifest, a national design contest for handmade utility bicycles. The bike's frame and wheels glowed at night.
While Downey still sees potential in the bicycle and highway industries—he presents a copy of a product evaluation by the Texas Transportation Institute for Halo-coated guardrails—he and his team are modifying the product for broader applications.
Out again comes the product sample bag. This time, it's a rubber sole made by a well-known athletic-shoe maker with the Halo coating applied.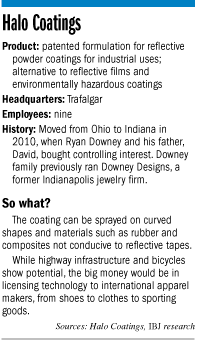 "I was stupid enough to take the challenge. You never hear of anybody powder-coating rubber," Downey said.
Powder coating is a process more common to metal than rubber and plastics.
It's essentially a powder of finely ground particles of pigment and resin. It is sprayed onto a metal object, with the parts electrically grounded and the powder carrying a positive charge to improve adhesion. A little time in an oven melts and cures the coating.
Because powder coating is durable and doesn't have volatile organic compounds common to liquid coatings, its use has become widespread. Many an appliance or other metal consumer good found in the home was powder-coated before it left the factory.
Downey's team is refining its technique for applying durable coatings to things like rubber—even to plastic rivets used in shoes and boots, to make them visible in the dark.
Before the Downeys took over, Halo's model was to go after regionalized job shops and local custom coaters.
"Big mistake," he said. "This was a strategy toward slow growth."
Halo markets its product primarily for the safety benefits.
But signed licensing agreements are still in short supply. Manufacturers wonder about durability and things like whether a clear coat need be sprayed atop the final color coat.
"Every shoe and apparel company we approached loved our coating. But they didn't love the fact we weren't in Asia," Downey said. So he's leaving for Asia next month.
One of his team members has been canvassing Europe and has found at least preliminary interest from companies such as a French bicycle maker.
Halo said it is in active talks with about 17 companies.
"The downside to going after large, multinational companies [is], big companies move slow. But in Halo's case, we spent the same amount of time going after Fortune 500 companies as we did hand-holding with smaller organizations, so why not think big?" Downey said.
A home run would be landing an apparel manufacturer in China, given the huge production runs of such companies. The coating would be done on the factory floor, fully integrated with a company's production process.
Downey—a political science major—has immersed himself in chemical journals. But much of the heavy lifting is done by his Long Island-based materials engineer, Frank Longo, who's been able to make objects glow at night in the same color as the powder. For instance, a red coating by day would glow red at night.
"Can you try to make it functional, besides being decorative?" Longo said of his approach. "I think [Downey] is on the verge of a nice business."
Halo also has been working with Graco Corp.'s Gema division, a maker of powder-coating equipment that has its North American headquarters on the west side. Gema hopes Halo's customers will use its equipment and has called Halo's formulation a breakthrough in the powder-coating world, particularly where night-time safety is an issue.
"We're interested in helping Halo be a successful, viable coating in the marketplace," said Gema executive Jeff Hale.•
Please enable JavaScript to view this content.