Locally based Flock Real Estate Group plans to spend more than $1 million to renovate side-by-side Old Northside apartment buildings in the firm's largest solo project to date.
The three-story brick buildings at the northeast corner of 13th and Alabama streets were constructed in the late 1800s, and were originally known as The Arletta and The Hartwell. The buildings have a total of about 20,000 square feet of living space.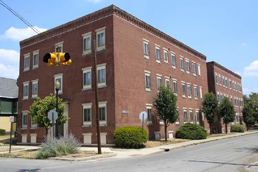 The pair of buildings at 13th and Alabama streets date to the late 1800s. (Photo: Flock Real Estate Group)
Flock plans to rechristen the buildings as The Veston and The Maude, named for prior owners Veston and Maude Hudson. Flock bought the buildings late last year after Veston died.
The purchase price was about $300,000, since the buildings needed a complete overhaul and units were only about 40 percent occupied, said Kurt Flock, who is a principal in the company alongside his wife, Kate.
Plans call for 18 market-rate apartments with refinished hardwood floors, high ceilings, new windows, track lighting and all-new kitchens with stainless appliances. The buildings would have 12 one-bedroom units, three two-bedroom units and three three-bedroom units, with rents from $750 to $1,600 per month.
Flock paid cash for the building and is trying to line up historic tax credits to help finance the renovation. The company may take out a mortgage on the property once it's finished and leased up.
"Small projects like this are tough to finance," Kurt Flock wrote in an e-mail. "There aren't enough units over which to spread the cost of originating bank financing."
Renovations are scheduled to begin in the next few months, with completion and move-ins by August.
Flock is known primarily as a residential real estate brokerage specializing in downtown listings including prominent assignments such as the condomimiums at the Conrad Indianapolis. The company also owns rental properties in the Old Northside and Chatham Arch and manages a handful of other properties for clients.
The downtown apartment market has been on fire for a few years. For 2011, downtown led all central Indiana apartment submarkets with a record occupancy rate of 95.7 percent, according to research from locally based Tikijian Associates.
Meanwhile, average rents grew 4.6 percent in the downtown area in 2011, though that figure was influenced by the arrival of new high-end projects such as CityWay.
Please enable JavaScript to view this content.